May 22, 2021
Weekly Meanderings, 22 May 2021
Our weekly selection of links across the web.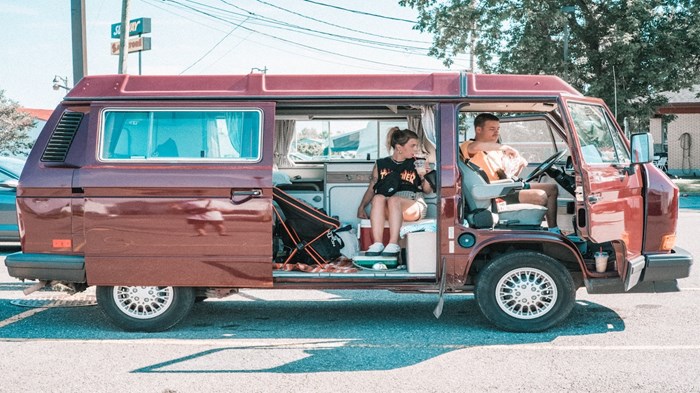 Good morning! Summer has arrived here in Chicagoland – as my phone temperature seemed stuck on 84 for two days.
CHICAGO, Ill. -- A couple from Chicago created a non-profit called Grocery Run Club that is helping underserved neighborhoods on the South and West Side by providing food and essentials.

Lucia Angel and Jorge Saldarriaga are the founders and operators of the Grocery Run Club, a non-profit that started last July in the midst of the pandemic. The non-profit started as a result of the mass need for essentials and food in the South and West Side of Chicago.

"We saw this immense need and we felt a call to action saying I'm from this community I need to help my people," Angel said.

The couple said they have partnered up with several organizations, delivering fresh food and essentials to people in need almost every day.

On Friday, the non-profit collaborated with Dions Chicago Dream, another non-profit that works to ease the food disparity in the city's Englewood neighborhood.

The collaboration allowed both groups to stock up a community fridge in the Englewood community.
A Florida man wrestled an alligator to save his 8-month-old dog while they were out for a walk on Tuesday.

Mike McCoy was walking Jake, his chocolate lab, around a pond when the dog wandered a few feet away to a bush. Suddenly, an alligator emerged from the water and attacked the dog in a matter of seconds. McCoy recalled the he barely saw the gator spring out of the pond, but heard Jake crying out as the gator pulled him back into the water, he said in a phone interview with NBC News.

"He was in a death roll with that thing," McCoy said.

With his dog helplessly in the water and under attack from the alligator, Mike said he jumped into the pond immediately to fight off the predator and save his dog.

He said he recalled some tips he previously read on alligators and tried to put that knowledge to use. McCoy said he thumbed the alligator in the eye and tried to pick it up out of the water so it could not go anywhere until the dog was freed from its jaw, but as McCoy tried to fight the gator, he too was bit on both of his hands.

"Had I not remembered what I read about the alligators, I wouldn't have been able to respond as quickly to help Jake," McCoy said. "It was only because I knew what I did that I felt confident to fight the gator off."

HT: DM
Linsey Marr's persistence changes aerosol impact:
ON FRIDAY, APRIL 30, the WHO quietly updated a page on its website. In a section on how the coronavirus gets transmitted, the text now states that the virus can spread via aerosols as well as larger droplets. As Zeynep Tufekci noted in The New York Times, perhaps the biggest news of the pandemic passed with no news conference, no big declaration. If you weren't paying attention, it was easy to miss.

But Marr was paying attention. She couldn't help but note the timing. She, Li, and two other aerosol scientists had just published an editorial in The BMJ, a top medical journal, entitled "Covid-19 Has Redefined Airborne Transmission." For once, she hadn't had to beg; the journal's editors came to her. And her team had finally posted their paper on the origins of the 5-micron error to a public preprint server.

In early May, the CDC made similar changes to its Covid-19 guidance, now placing the inhalation of aerosols at the top of its list of how the disease spreads. Again though, no news conference, no press release. But Marr, of course, noticed. That evening, she got in her car to pick up her daughter from gymnastics. She was alone with her thoughts for the first time all day. As she waited at a red light, she suddenly burst into tears. Not sobbing, but unable to stop the hot stream of tears pouring down her face. Tears of exhaustion, and relief, but also triumph. Finally, she thought, they're getting it right, because of what we've done.

The light turned. She wiped the tears away. Someday it would all sink in, but not today. Now, there were kids to pick up and dinner to eat. Something approaching normal life awaited.
Yes, and I'm grateful for a great editor in my early days:
We have so many fantasies of what the writer's life is like: jotting down notes at a café, time to dream, and a certain ease of getting published. While many of these, particularly the last, quickly fade, either because of early rejections or the need for a steady paycheck, there is one fantasy that I held on to until my first book was published: that of the overly involved, tough-love editor who would take my work to some next level—the Gordon Lish to my Raymond Carver—and care about it as much as I did.

My first book, a story collection, was published by a university press. The peer reviewers each gave a few careful comments. One reviewer wanted one story cut, the other thought it could be reworked. A second story was recommended for "fine-tuning."

I agreed to address these small issues, and I waited for the editor to whom I had originally submitted the work to give me her edits. They never came. She told me to make the changes the reviewers had suggested, and then I was whisked right on to copy editing. I know she cared about the book. She just wasn't going to edit it in the way I thought she would.

Rewind a year, to when I found an agent for my debut novel. He and I spent months going back and forth with my revisions, his comments, and more revisions. Here was the editing process I expected: where sentences are debated, scenes deleted, problems large and small addressed. Throughout this process, he kept telling me editors these days like really clean copy, and I started to realize that editors don't really edit anymore.

"My agent used to be an editor," says author Keith Lee Morris, whom I contacted after hearing him discuss the editing process at a book event, "and she quit to become an agent so that she could work more closely with authors on their manuscripts."

My own agent, Madison Smartt Bell, agrees that editing has shifted: "Editors now can expect manuscripts submitted to them to be in an extremely finished state, perfected whether by writers teaching in the academy, or by agents drawing on their past experience as editors, or a combination of those two."
(CNN)Nearly twenty buildings in Philadelphia are dimming their lights this spring after thousands of birds perished in the city's largest mass collision in recent history.

The voluntary measure has been coordinated by "Bird Safe Philly" and continues until May 30 with the purpose of sparing the lives of some of the 100 million birds passing over the City of Brotherly Love on their semiannual migrations.

To some, it might seem more intuitive to leave the lights on to help birds steer clear of buildings, but Robert Peck, a senior fellow at the Academy of Natural Sciences of Drexel University, explains most migrating fowl navigate by light; the sun, the moon and the stars.

Fog and rain, which are quite common in spring and autumn, force birds to fly at lower altitudes. When they see the bright city lights, they are often dazzled, disoriented and confused.

"Suddenly they have all these lights coming at them from different directions. It's overwhelming," Peck said. "They get turned around and they will fly into buildings and walls."

The Philadelphia buildings participating in these efforts have agreed to switch unnecessary lights off from 12:01 a.m. to 6 a.m., especially on higher floors, dimming lights in lobbies and atriums.
Fifty-seven years after Böckenförde's statement, and after centuries in which religious movements like the Protestant Reformation have been credited with triggering the rise of the Enlightenment, the Protestant work ethic with laying the foundations of modern capitalism, and Catholic social doctrine with inspiring the rise of welfare states, more and more observers seem to wonder: Has religion exhausted its positive potential, and wouldn't liberal democracy be better served through a complete absence of religion from the public sphere? The voices answering this question with a resounding yes are becoming louder. And they are no longer restricted to the media, academia, and other secular progressive circles. Instead, survey data suggests that the majority of French and Britons now favor further restrictions of religious expression in the public sphere. And even notoriously-religion-friendly Americans are becoming more skeptical of religion. For instance, the share of Americans who think that churches or other religious institutions have little or nothing at all to contribute to solving social problems has almost doubled from 21 percent in 2001 to 39 percent in 2016. In fact, 63 percent of Americans would now prefer that religious figures stay out of political matters all together (up from 49 percent in 2016).
Jesus Creed is a part of CT's Blog Forum. Support the work of CT. Subscribe and get one year free.
The views of the blogger do not necessarily reflect those of Christianity Today.