May 8, 2021
Weekly Meanderings, 8 May 2021
Our weekly selection of links across the web.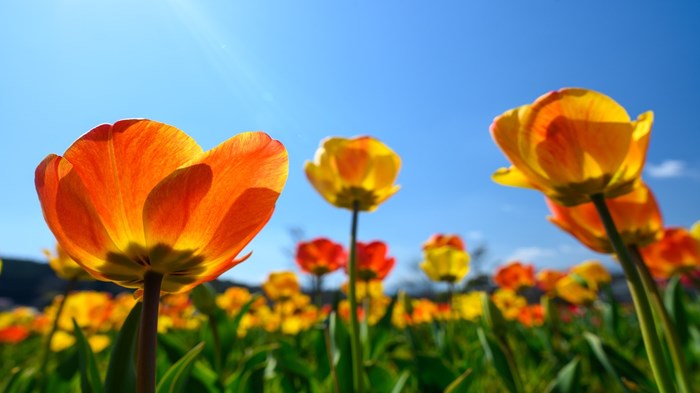 Good morning!
She's 106 and she gives credit to what?
MOBILE, Ala. (WKRG) — Sarah Wilder just turned 106 years old, and she's sharing the secret to her longevity.

Walker lives at the Little Sisters of the Poor in Mobile, Alabama, where the staff says she is sharp as a tack.

Wilder was a teacher for years. She later volunteered at the Little Sisters and even set up a music exercise program for the residents.

And she knows how to celebrate. According to her family, she had three parties for her 100th birthday.

To what does she attribute her long life? She says she "lives a pure and simple life and loves peanut butter and jelly sandwiches!"
They're coming! It's not the apocalypse either.
COLUMBIA, Md. (AP) — Sifting through a shovel load of dirt in a suburban backyard, Michael Raupp and Paula Shrewsbury find their quarry: a cicada nymph.

And then another. And another. And four more.

In maybe a third of a square foot of dirt, the University of Maryland entomologists find at least seven cicadas — a rate just shy of a million per acre. A nearby yard yielded a rate closer to 1.5 million.

And there's much more afoot. Trillions of the red-eyed black bugs are coming, scientists say.

Within days, a couple weeks at most, the cicadas of Brood X (the X is the Roman numeral for 10) will emerge after 17 years underground. There are many broods of periodic cicadas that appear on rigid schedules in different years, but this is one of the largest and most noticeable. They'll be in 15 statesfrom Indiana to Georgia to New York; they're coming out now in mass numbers in Tennessee and North Carolina.

When the entire brood emerges, backyards can look like undulating waves, and the bug chorus is lawnmower loud.

The cicadas will mostly come out at dusk to try to avoid everything that wants to eat them, squiggling out of holes in the ground. They'll try to climb up trees or anything vertical, including Raupp and Shrewsbury. Once off the ground, they shed their skins and try to survive that vulnerable stage before they become dinner to a host of critters including ants, birds, dogs, cats and Raupp.

It's one of nature's weirdest events, featuring sex, a race against death, evolution and what can sound like a bad science fiction movie soundtrack.
NEXSTAR) — We already know that yawning is "contagious," or that the reflex passes from person to person, but a new study finds a similar mechanism at work in smartphone use.

The researchers, who published their study recently in the Journal of Ethnology, found that seeing one or more persons using a smartphone inspires others to pick up their smartphones in turn.

Almost half of the 103 participants in the study checked their phones after someone nearby did within 30 seconds of noticing that person's smartphone behavior, which the researchers called a "mimicry" response, in which one person's behavior inspires similar behavior in another person.

To conduct the study, the researchers observed people going about their days — at waiting rooms, in parks, at restaurants. During observation, they'd note which people were "triggers" who inspired others to check their phones and which were "observers" who mimicked that behavior.

The researchers found that almost 50% of observers checked their phones after triggers looked at their screens, compared to fewer than 5% when the trigger did not check his or her phone.

They called the phone-checking a "spontaneous mimicry response," which they noted occurred with greater frequency in the morning compared to at night.
GETTYSBURG, Pa. (AP) — Authorities say a man was rescued after a tree that fell during high winds trapped him inside a portable toilet at Gettysburg National Military Park in south-central Pennsylvania.

The Barlow Volunteer Fire Department said on its Facebook page that the crew was called to Little Round Top shortly before 4 p.m. Friday. Assistant Chief Joe Robinson told the York Daily Record that they found a tree atop a vehicle but no one inside, and park rangers then told them the tree had trapped a man in the portable toilet.

Robinson said crews treated it like a car entrapment, cutting away the tree with a chain saw and then cutting the portable toilet open with another saw.
(NEXSTAR) – Well, this stinks. The owner of a home in Michigan says he's fed up with the smell of a "poop wall" that his neighbor has been building near his property.

Wayne Lambarth of Lodi Township claims that his neighbor, a farmer, began using cow manure to construct the wall sometime last year, after a dispute over a property line that divides their land, Fox 2 Detroit reports.

Prior to the dispute, Lambarth says his neighbor would spread the manure over his own farmland. Now, however, the manure has been built into a dung-based divider that extends 250 feet in length.

It's not just Lambarth and his neighbor that are currently caught in the smelly crossfire, either. Lambarth has two tenants living in his home, both of whom are sick of the sight — and smell — of the farmer's feces fence, they tell Fox 2 Detroit.

Unfortunately, local officials don't have a whiff of good news for Lambarth. As long as the manure remains on his neighbor's property, Lambarth can't do much about it.
DETROIT (AP) – Now that's a whopper — a very old whopper!

A 240-pound (108.8 kilograms) sturgeon that could be more than 100 years old was caught last week in the Detroit River by the U.S. Fish and Wildlife Service.

The "real life river monster" was nearly 7 feet (2.1 meters) long, the agency said Friday on Facebook, where the photo was shared more than 24,000 times by late afternoon.

"Based on its girth and size, it is assumed to be a female and that she has been roaming our waters over 100 years. She was quickly released back into the river" after being weighed and measured, the Fish and Wildlife Service said.

The typical lifespan is 55 years for a male sturgeon and 70 to 100 years for females, according to the Michigan Department of Natural Resources.

This fish was caught on April 22 near Grosse Ile, south of Detroit, while a three-person crew was conducting an annual sturgeon study. Frozen round goby, a tasty snack for a sturgeon, was used as bait on a long line that was deep in the river.

It took about six minutes to get the fish into the boat with a net.
DENVER (KDVR) — If you consider yourself amongst the perforated sandal-donning community, you might be pleased to hear that your membership is growing.

Crocs Shoes shares jumped 16% on Tuesday after their first-quarter earnings were reported, revealing that the company made $98 million. Compare this to their earnings at the same point last year, which only reached $11 million, and it is apparent that the fashion trend has returned.

We've come a long way since fashionistas recoiled in horror at the outfit of former President George W. Bush in socks and crocs.

There has been a national time-jump back towards the Croc-filled existence of the early 2000s has occurred amid a national shift toward remote work and Zoom meetings requiring a business dress code from the waist up only.

But the trend has gone beyond the small comforts of working from home, with Questlove wearing a gold model of the foam clogs to the 93 Annual Academy Awards.
Jesus Creed is a part of CT's Blog Forum. Support the work of CT. Subscribe and get one year free.
The views of the blogger do not necessarily reflect those of Christianity Today.