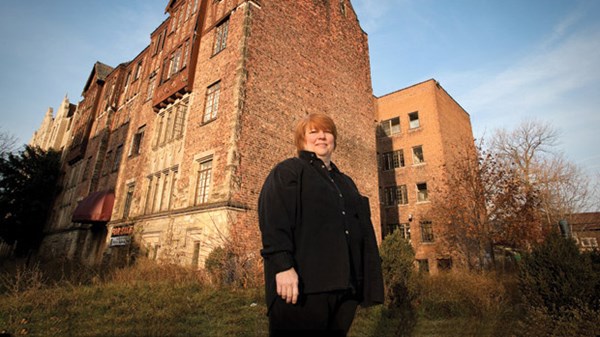 Image: Photo by Gary Gnidovic
The Top 10 This Is Our City Stories: Editor's Pick
And a bit of what our team learned along the way.
1.15.14
10. "An Ichthus in a Sea of Loan Sharks," by Amy Sherman. Sherman, the author of Kingdom Calling, introduced us to Pittsburgh nonprofit Grace Period, which provides a brilliant and growing alternative to payday lending.
9. "The Moral Mattress Kings of Denver," by Chris Horst. Can the mattress industry be redeemed? Does it need to be? I loved this story of king-sized Christianity from HOPE International's Chris Horst.
8. "Yes, I'm the Mechanic," by Nathan Clarke. The least fun thing I can probably think of is working on a car. Yet Staten Island native George Zaloom shows how auto repair can glorify God and bring joy to the worker.
7. "Where Portland Church Planters Fear to Tread," by Brandon Rhodes. The story of Springwater, an intentional community in southeast Portland, is perhaps the most powerful portrait we found of Christians committed to a place for the long haul.
6. "Rethinking the $3,000 Missions Trip," by Doug Banister.Pastor Banister's poignant story of Martin, the 10-year-old boy who didn't know how to swim, "blew up," as they say, on our site. His piece tapped into larger discussions about the limits of short-term missions.
5. "Gardening to Make Beauty Out of Blight," by Nathan Clarke. I will never forget sitting in Riet Schumack's backyard, surveying her gardens, goats, and stewable rabbits. Nate captured the Detroit native's love for natural beauty, and her neighbors, so well.
4. "Faith in a Fallen Empire," by Katelyn Beaty. Pardon the authorial bias with this one, but, reporting on Detroit and the Christians who live there was moving, humbling, and made me forever defensive about jokes about the Motor City. It changed me and, hopefully, changed perceptions too.
3. "Here's to the Misfits," by Andy Crouch. In our leading report from Silicon Valley, Andy captured the entrepreneurial, risk-or-die spirit of the region, and showed how Christianity's humanizing effect translates into wearable technology.
MORE FROM CHRISTIANITY TODAY