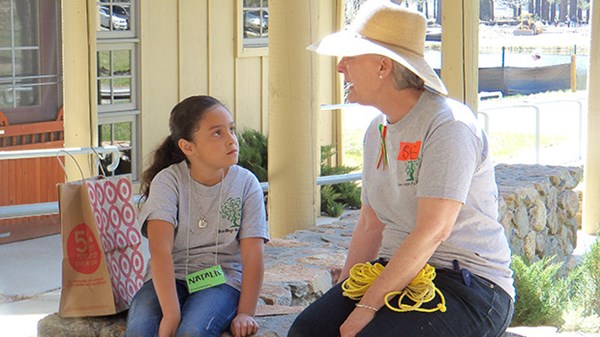 A MASH Unit for Grief: A Support Center Reaches the 'Incoming Wounded' of Long Beach
Nurse Susan Beeney estimates that each year, 40,000 of her neighbors are facing profound loss. What her nonprofit is doing to heal their wounds.
7.9.12
Yet many more such activities are needed, Beeney emphasizes. "The statistics are overwhelming. On average in Long Beach [pop. 500,000], about 3,510 people are going to die in the local hospitals each year. We figure on average each death affects at least 13 people, so that's about 40,000 people annually who are walking around needing grief support."
In addition to its weekly groups, New Hope responds quickly to community tragedies. In 2008, Beeney and her team stepped in to assist survivors of the "Santa Claus massacre." On Christmas Eve, a disgruntled man showed up on his ex-wife's doorstep in a Santa suit. When her 8-year-old daughter opened the door, the man shot the child in the face and went on to gun down eight other family members gathered. More recently, the Orange County First Response asked New Hope to help families of the victims of the October 2011 Salon Meritage tragedy in Seal Beach. There, the disaffected ex-boyfriend of one of the beauticians opened fire in the crowded salon, killing eight.
"I look at us as a MASH unit," Beeney says. "We have all our regularly scheduled grief groups, but then we have those times of what we call 'incoming wounded.'"
New Hope's books and resources have been used nationwide by counselors responding to tragedies like the Columbine school shooting, 9/11, and Hurricane Katrina. Today the agency is poising to respond to what it hopes will be a major influx of calls for training resources after being highlighted on ABC's Secret Millionaire show last night. Beeney is passionate to help churches strengthen their outreach in this arena. She says when she began the work in 1987, "there was virtually nothing out there." She is encouraged by the "slow and steady enlarged awareness of the need" she's witnessed in recent years, but there is still far to go. "Today grief ministry is still not taken on as an important focus, just like divorce care isn't," she laments. "Those two are still territories of ministry that are severely and embarrassingly lacking. We've dropped the ball there. That's why we are so strong on helping others to get going."
Dr. Amy L. Sherman's most recent book is Kingdom Calling: Vocational Stewardship for the Common Good (InterVarsity Press), which includes an abundance of stories of Christians contributing to the flourishing of their cities. More at ivpress.com.
MORE FROM CHRISTIANITY TODAY