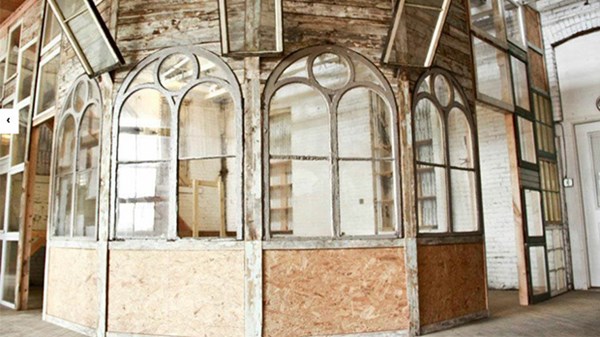 In Philadelphia, a Pastor Turned Business Owner and Accidental Arts Patron
How Paul Stone revived one factory and opened it to his neighbors.
7.5.12
"It's not like I get up every morning and think, I'm going to change the world," says Paul Stone, owner of Emerald Windows. A small manufacturing business in the North Central neighborhood of Philadelphia, where Stone has seen drug deals—and occasional gun violence—from his office window, over two years Emerald has become the creative space for more than 40 artists and artists' groups in northeast Philadelphia.
Stone didn't set out to be a business owner. He and his wife, Kym, were living in the Bridesburg neighborhood of Philadelphia. Kym was teaching in the public schools, and Paul was subcontracting for the owners of Emerald while pastoring a small, struggling church in the neighborhood. When the factory was damaged in a fire in 2002, the owners came to Stone. They wanted to get out of the business, and they wanted him to take over.
They gave the factory to Stone, who built a temporary office out of plywood to sell windows while he renovated the factory, most of which was either empty or filled with trash—a heap of 50 bathroom sinks filling one room, piles of wood paneling another. It took nine months to re-wire the electricity and build a usable office, but eventually he restored the factory to the point that they were manufacturing again, with 40 employees producing 20,000 new windows a year for use throughout the Philadelphia area.
Today, Emerald no longer manufactures ("it's not profitable unless you're making 100,000 or more windows annually," explains Paul), focusing instead on installations (mostly residential) and wholesale distribution to contractors. Meanwhile, Stone, 36, has partnered with a number of government organizations to put windows in the houses of people with low incomes. The Department of Energy, for example, helps fund the Philadelphia Housing Development Corporation, which pays Emerald to weatherize houses for energy efficiency; the Philadelphia Corporation for Aging does the same for elderly citizens.
"Those projects are not profitable," says Stone. "They pay the overhead and cover operational costs, but [Emerald] doesn't make a profit." Why does he do it, then? I thought it was because he has a sense of social responsibility to the elderly and low-income citizens of Philadelphia, and that's part of it, but Stone is just as concerned about the people inside his factory.
MORE FROM CHRISTIANITY TODAY