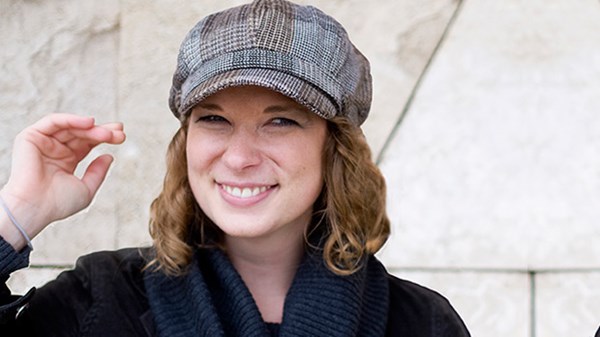 An Architect for the Green-Friendly Masses
Jill Kurtz believes it's time for architects to start serving the other 80 percent.
10.18.12
San Francisco boasts a ban on plastic grocery bags and a high-end public transportation system. Its policies—including its "green" citywide building code—are more aggressive on environmental concern than most. This is what attracted architect Jill Kurtz, 31, to the city; she thought it was "the epicenter" of the sustainability movement. She discovered, though, that "San Francisco is not leaps and bounds ahead of many other big cities. There are still a lot of people here who are just figuring sustainability out, or . . . still wanting to do 'business as usual.' "
Kurtz, a Christian, also noticed that many SF companies "made sustainability unaffordable, especially to clients who are just starting to explore what it means to be better stewards of energy." Having graduated from architecture school only a few years earlier, Jill decided she wanted to address that issue. She and a friend launched their own firm, reBuild, "to make sustainability accessible for people who couldn't afford high-end consulting," Kurtz says.
Kurtz's passion for design began early. "I still remember the moment at 12 when I decided to become an architect," Kurtz says. At her father's office (he was a building contractor) she found some home design magazines and soon was plotting out alternatives on gridded paper. Her passion for "green" building emerged while at Kansas State University's College of Architecture, Planning & Design. There, she became the first student to earn Leadership in Energy and Environmental Design (LEED) certification, indicating mastery of green design, engineering, and building practices that reduce waste, improve energy efficiency, and promote health.
reBuild's first local clients were two newly minted dentists. Sara Creighton and Jared Pool wanted their building in SF's Washington Square Park to attain LEED certification. "We wanted to implement . . . sustainability all throughout our entire practice," Creighton says. "We went paperless, chose better cleaning products, and reused old dental chairs." With reBuild's help, the dentists reduced their building's standard lighting power by 25 percent and improved its air quality by 30 percent by increasing the outside air ventilation.
Kurtz also helped the dentists furnish their practice's interior with materials that contained no VOCs, or "Volatile Organic Compounds." (Some research reveals that most VOCs can be carcinogenic.)
"We spend 90 percent of our time indoors," Kurtz says. Given the kinds of building materials and filtering systems often used, "the air we breathe indoors is far more toxic than the air we breathe outdoors.
"There's been a lot of attention to 'sick building syndrome' of late. This is when people get asthma or airborne diseases from toxic indoor environments."
LEED projects, she says, both benefit the planet by reducing energy use and contribute to human health. "If we're going to be spending this much time indoors, let's make sure we're breathing healthy air."
More recently, reBuild extended its services to churches, when it partnered with Bay Area Chinese Bible Church in 2011 and 2012 to construct a new worship center. "Our church design team really values sustainability," says Pastor Steve Quen. "We wanted to showcase our belief in creation care to our community and church members." Kurtz says she found Quen's team "refreshing" to work with, since she had previously encountered churches that were apathetic about creation care.
Kurtz and her colleagues helped the church design a Sunday school curriculum that teaches kids about creation care and cheered on Quen in designing a sermon series on stewardship. "It was cool to see how sustainability was not just applied in the building project but [also] was infiltrating operations as well," she says.
"Sustainability is good stewardship. If we can build better buildings and use fewer resources and save that energy, then that's our mandate."
The young architect has recently married and moved to Pennsylvania. Now she's directing her passion for green building in a new direction: teaching the next generation of design professionals. Kurtz approached her alma mater, Kansas State, about leading a course on "public-interest architecture," and they bit. This new discipline within the profession, Kurtz explains, "has been rumbling for the past ten years or so, but it's only within the past five years that is has started to gain traction." Kurtz's two-week intensive on the subject was the first class of its kind at Kansas State.
So far, Kurtz's attempt at becoming "Professor Kurtz" has paid off for her students. "I even had a couple students who told me, 'This class has changed my life. It's restored back to me why I came into this profession to begin with: to help people.'" Her eight students decided to form a club to keep the conversation going.
"The course inspired me to rethink what I want to do in the profession and has made me believe that there are more options available than what we're originally taught," says student Garric Baker. "We don't have to be stuck in an office in some big city; we don't just have to be pencil-pushers. We can actually go out and get our hands dirty and build the projects we design anywhere in the world."
"My intent was to open these students' eyes to the larger role in society they can play," Kurtz says. A major issue they can respond to, she emphasizes, is accessibility to design services. "Designers and builders have the power to holistically address some of humanity's most critical issues. [Yet] only 10 to 20 percent of the world's population has access to designers and architects," Kurtz says. "Rather than catering to the world's wealthiest, we need a reorientation in the profession toward serving the needs of the other 80 to 90 percent."
Dr. Amy L. Sherman's most recent book is Kingdom Calling: Vocational Stewardship for the Common Good (InterVarsity Press), which includes an abundance of stories of Christians contributing to the flourishing of their cities. More at ivpress.com.
MORE FROM CHRISTIANITY TODAY