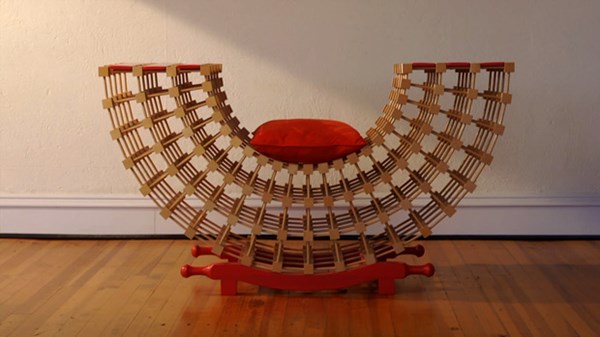 Artificial Grace: Why the Creation Needs Human Creativity
A meditation on "Furniture Fit for the Kingdom," the City project's newest film.
5.2.12
Therefore, to every spirit which Christianity summons to her service, her exhortation is: Do what you can, and confess frankly what you are unable to do; neither let your effort be shortened for fear of failure, nor your confession silenced for fear of shame. And it is, perhaps, the principal admirableness of the Gothic schools of architecture, that they thus receive the results of the labour of inferior minds; and out of fragments full of imperfection, and betraying that imperfection in every touch, indulgently raise up a stately and unaccusable whole.
Cities themselves embody intense human artifice. We should be careful as Christians to not fall prey to a romanticism about nature that worships pastoral idylls. A Christian theology of creation is not merely a theology of nature; indeed, the "creation" that is affirmed as "very good" (Gen. 1:31) includes its "human layer," as it were—the stuff we've made that unpacks the potential God has packed into creation. This is precisely why the end of the story is not a return to some pristine garden but the unveiling of a well-ordered city, into which our own rightly-ordered labor is taken up. (I secretly hope for a chance to sit on a Harrison Higgins chair in the new heavens and earth.)
Indeed, let us not miss the fact that this film is itself an instance of what we might call "artificial grace." A work of art well-crafted, its graceful artifice is almost invisible: the timbre of the soundtrack, the portraits painted by angle and light. The documentary is a visual vignette on the work of Higgins, whose craft models artificial grace—the life-giving way of working with the gifts God gives us in this world, shepherding them from raw materials to things that give life and delight. Higgins should be grateful for a film that does the same, thus doing justice to his work and story just as he seeks to do justice to the trees of God's good creation.
James K. A. Smith is professor of philosophy at Calvin College and author most recently of The Fall of Interpretation (Baker Academic). He blogs at Fors Clavigera.
MORE FROM CHRISTIANITY TODAY