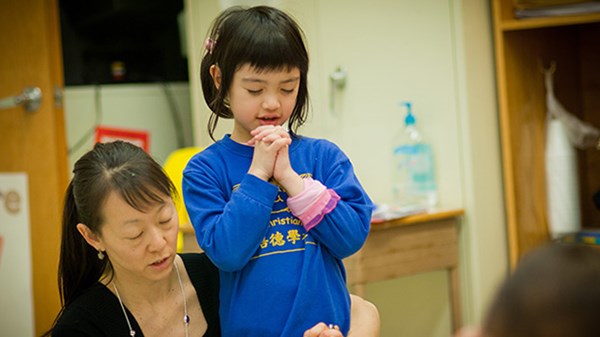 Keeping Christian Schools Alive in Urban Chicago
How Bright Promise Fund helps faith-based educators keep their doors open.
4.22.13
The plan is simple, says Larsen, whose background is in student development in Christian colleges. "Whatever we raise in a given year, we divide it into seven equal shares." Each of the seven member schools can spend the money how they see fit, though Bright Promise's board likes to see the money go to providing scholarships, says Larsen.
But, "we trust the governing board of local schools to know what their deepest needs are," he says. "They can use it for whatever they want."
Pui Tak uses part of its share—which amounted to about $10,000 in 2012—to assist with tuition payments. The rest was used to "put out fires," Ho says. Sometimes that means paying a bill; other times it means buying supplies or supporting a child whose mother has cancer.
Humboldt uses the money to ensure every family meets tuition. "It's very helpful to every child to keep the tuition where they can stay in," Flores says. "Our kids are a little different in that parents come to us looking for a safe and secure environment. They're families who need the Lord. Any direct and extra help that Bright Promise gives helps keep our school promoting that mission."
Though $10,000 isn't much given Humboldt's $520,000 annual budget, it is still a gift. "It goes directly to being able to provide academic instruction," says Flores. "It's not going out to do extra projects for us. Our budget is salary, keeping the programs going, and insurance on the building."
Being a Bright Promise school also offers Humboldt additional credibility with donors, she says.
"Some people won't care about a little school they've never heard of," Flores says. "But Bright Promise gives us a stamp of approval or stability. It's much like people who want to know if you're part of a group like CSI [Christian Schools International] or ACSI [Association of Christian Schools International]. It gives us some credibility that way."
MORE FROM CHRISTIANITY TODAY