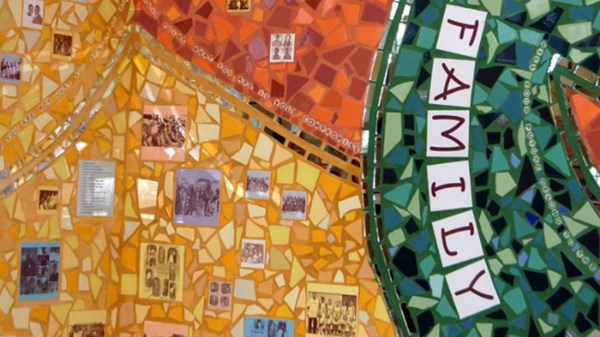 Image: Courtesy of Carolyn Elaine
Piecing Together Peace Amid Chicago's Youth Violence
Why muralist Carolyn Elaine returned to her embattled alma mater.
9.23.13
Time to Go Back
That story began in 1980, when Elaine graduated from Fenger and left the Rosedale neighborhood on the South Side where she had grown up. As she watched every media outlet stream the footage of Albert's death, Elaine said, "I didn't want anyone to know I had graduated from Fenger. This was my high school."
But she realized that she had played a role, "because I haven't gone back to the school or to the community for over 30 years. I got my diploma and was the first in my family to go to college. Then I took a job in Texas—never looked back—even when I returned to Chicago years later.
"I heard God so clearly say, It's time to go home, time to go back. I said, 'Are you kidding me?' "
Elaine was taking a course with Landmark Education, a training and development organization, and was required to create a community project. She says she felt like it was more than the course giving her the assignment.
"Derrion was killed next to a youth center, a community center," she says. "So I went to the youth center and said, 'I'm here to serve. I'm an artist. I don't know how that may be helpful. But I want to do something.'"
Elaine started attending meetings at the youth center alongside vice presidents of U.S. Bank, community leaders, pastors, and the principal of Fenger. They were there to find the best response to Derrion's death. "Going back to that community was like going to a war zone," says Elaine. She told the group that she was a mosaic artist and wanted to do a mural at Fenger. "I declared that I was going to alter the views that had been created around what had happened."
MORE FROM CHRISTIANITY TODAY