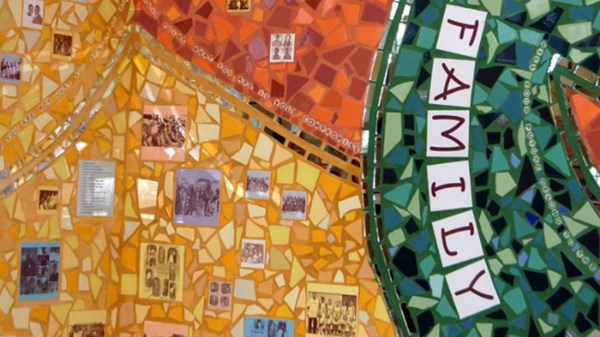 Image: Courtesy of Carolyn Elaine
Piecing Together Peace Amid Chicago's Youth Violence
Why muralist Carolyn Elaine returned to her embattled alma mater.
9.23.13
While the mosaic could not restore Albert's life, it could transcend the violence that took it and offer an antidote to the viral YouTube video. And though no bells would be ringing in the Olympics' arrival in Chicago, the mosaic tangibly reminds a community that broken things in loving hands are made beautiful, that beauty is the aspiration of all brokenness, and that no darkness can stand against such things.
"When you look at the work that's created by students, by the community," says Elaine, sitting across from me at the CIVA conference, her face bright as Moses coming down from the mountain—"when you look at mosaics, you can see the beauty in the finished piece, but the story behind the artwork is in the cracks."
It reminded me of the chorus we at the CIVA conference sang at the final worship service:
Ring the bells that still can ring
Forget your perfect offering
There is a crack in everything
That's how the light gets in.
(Leonard Cohen, "Anthem")
Drew Ward teaches Environmental Literature for the Creation Care Study Program and writing at Chaffey College. He has written for This Is Our City about Riverbend Commons, a suburban experiment in intentional Christian community.
MORE FROM CHRISTIANITY TODAY