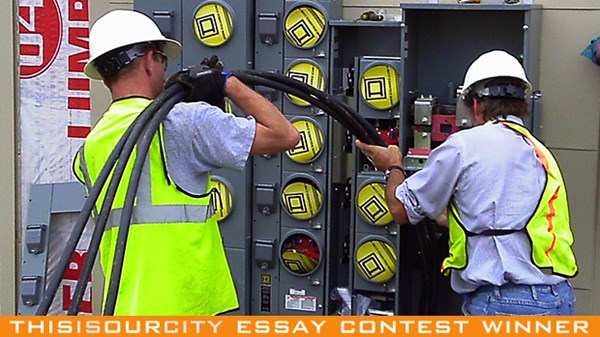 Image: Courtesy of Zach Smith
Christ Among the Contractors
How my work at a construction company reveals Jesus as much as my theology books once did.
8.5.13
It was, perhaps, a sign of the times that I was a fresh college graduate with a historical theology degree applying for a job in electrical contracting. It was 2009, and I had spent the past four years studying the arc of theological truth through the centuries. The difference between discussions on Ludwig Feuerbach and circuit breakers seemed chasmic. I had no technical knowledge or trade experience, but I did have bills to pay. So when the company reached out to schedule an interview, I said yes.
I soon found out my potential new boss had not only received his master electrician license in his early 20s, but had taught as a professor after completing a seminary degree at Liberty University. He was also the kind of hardcore that rides his Harley in weather Army Rangers complain about. I feared he would find me an unqualified, poor fit for his company. Yet, in spite of my lack of trade knowledge, Phil Nelson hired me as an electrical estimator (or rather, the estimator, as I was the only one). Looking at blue prints and specifications, calculating costs and negotiating contracts wasn't exactly my dream job, but it covered my $280/month rent and helped me put a ring on my fiancée's finger.
It didn't take long for me to realize Nelson often intentionally hired people with little or no background in the trade. Just as often, he hired those who were unlikely to ever find steady, meaningful employment. Some of his employees carry a criminal past; some grapple with substance abuse. Most face the harsh reality of being born into an economically disadvantaged family in a shrinking rust belt city.
That's exactly what Binghamton, New York, is—a town familiar with abandoned warehouses, Family Dollar stores, and food stamps. The per-capita income in Binghamton in 2010 was about half the national average at $21,455. An estimated 28 percent of the population lives at or below the poverty line, including just over 40 percent of individuals under age 18. And for most of them, the expense of a trade school is hardly justifiable—an associate's degree in electrical construction at the State University of New York at Delhi costs about $9,198 per year, even with the financial aid provided for a student and a family contribution of $0.
MORE FROM CHRISTIANITY TODAY