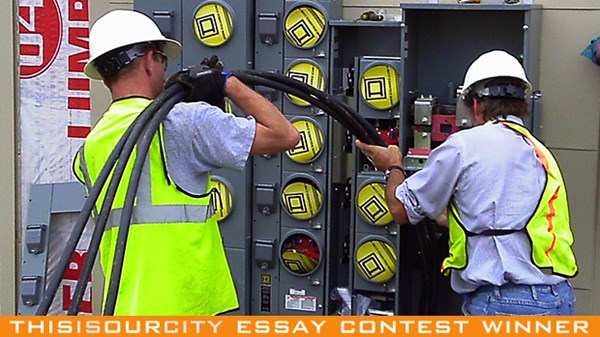 Image: Courtesy of Zach Smith
Christ Among the Contractors
How my work at a construction company reveals Jesus as much as my theology books once did.
8.5.13
Nelson isn't the first employer to hire unskilled employees and train them up in the trade. What differentiates Nelson's Lamp Lighters from many other construction companies is the investment Nelson makes in his employees and the work environment he creates. Where many companies hire seasonally, Lamp Lighters strives to maintain the same team of 30-40 field electricians year-round. As electricians learn more and progress within the trade, they get the chance to convert years of experience and on-the-job training into journeyman and master electrician trade licenses. In this way, Lamp Lighters provides value creation not only for each electrician, but for their families and, by extension, the broader community. In return, the company gets a loyal and dedicated employee who is invested in the company's success.
Some might criticize Nelson's hiring practices as inefficient and risky, while others might applaud him for keeping labor costs under control and training with the long view in mind. And there's truth to both sides. Hiring me as an untested estimator was risky—I drastically underbid my first project and lost the company thousands of dollars. (In the end, I've become a successful estimator in my own right.) But the motive for Nelson's practices runs much deeper. It is the simple character of a man committed to living his faith in the midst of the grit of mundane living. And where once that living might have been as a seminary professor, today it is in the context of electrical construction. Nelson's is not a radical calling or a particularly creative take on social enterprise. His work will rarely be recognized as missional. It won't be highlighted in ministry journals. And Lamp Lighters is anything but a front for charity work. Instead, it's a business enterprise that is intentionally social. It's about the people as much as the profit, a byproduct of an owner who is living as Christ lived, walking and working in a community for its common good.
MORE FROM CHRISTIANITY TODAY