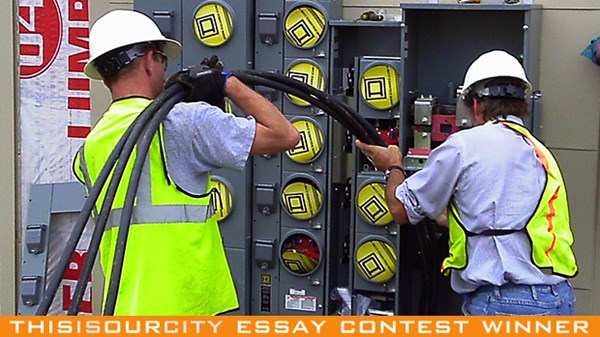 Image: Courtesy of Zach Smith
Christ Among the Contractors
How my work at a construction company reveals Jesus as much as my theology books once did.
8.5.13
But it's not just a social philosophy. These ideas permeate the entire company culture at Nelson's Lamp Lighters. Every Friday afternoon, Nelson orders pizza and soda. As everyone gathers to pick up paychecks, we share the frustrations and victories of the week—the best stories told and retold years later. Each summer the company hosts a summer picnic and annual Lamp Lighter Electrician Olympics as a chance to bring the families in the company together. Winter brings around the annual catered Christmas party where everyone shares the highlights of the year and Nelson presents company awards. And as a merit shop, Nelson is committed to giving back 20 percent of gross profits to the employees, in addition to the clothing and tool allowance programs workers are enrolled in when they are hired.
Through his company, Nelson has become a kind of philanthropic social venture capitalist. He has taken economically, civically, or otherwise socially stigmatized persons and credited their own social accounts with a sort of capital they could never have achieved on their own: trust, reputation, a sense of worth, dignity, and belonging. These are the very things Christ gave to tax collectors, prostitutes, and fishermen.
In one of the most economically depressed regions of New York, Nelson's Lamp Lighters gives its employees the basic tools to get started and a further opportunity to grow. And they do. Currently, all of the project managers were hired without previous experience and have come up through the ranks to take on senior leadership roles. The story is the same for about 50 percent of our on-site supervisors, and at least three-quarters of our apprentices and helpers.
MORE FROM CHRISTIANITY TODAY