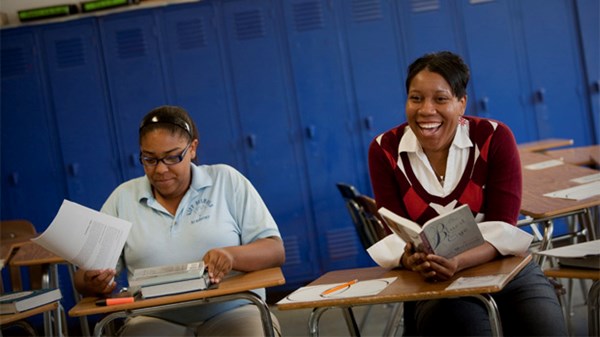 A Christian Teacher Residency Program That Eschews Classroom Evangelism
Memphis Teacher Residency tells residents to witness to Christ by teaching with excellence—and by committing to Memphis for the long haul.
1.24.12
In the basement of a church in the heart of Memphis, Tennessee, a group of Christians believes public education in American cities does not have to continue as is. They are not activists or government officials. Nor are they protestors or reformers in the traditional sense of the word. They are teachers and those training them.
And they believe that "urban education is the single greatest social justice and civil rights issue in America today."
Such is the belief driving Memphis Teacher Residency (MTR), a nonprofit that trains quality teachers for the Memphis City School system. In a city with over a thousand churches yet where more than half of the children live in a neighborhood characterized by poverty, founder and director David Montague and his team realize there is much work to be done.
Through MTR, teachers in training from across the country move to Memphis for an intensive one-year residency. In addition to classes and seminars, residents are paired with a teacher-mentor in a Memphis classroom. At the end of the year, residents have earned a Masters of Arts in urban education through nearby Union University and a Tennessee state teaching license. In return, the residents teach in an underserved school in Memphis for at least three years.
MTR is not the only urban teacher residency program in the country, and the concept of training teachers in exchange for years of service is not new; since 1989 Teach for America has been recruiting college graduates and young professionals to teach in underserved schools for at least two years. However, MTR is the only urban teacher residency program in the country that provides this training in a Christian context. Along with education training, residents attend biblically based seminars and courses throughout the year.
Many people wonder how, in a public school, MTR can purposely put Christian teachers in the classroom. Doesn't that violate the separation of church and state? Montague and MTR's answer: Christian teachers should not talk about their faith in the classroom.
MORE FROM CHRISTIANITY TODAY