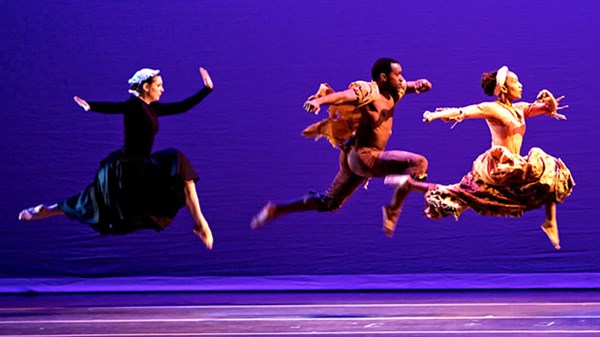 Dancing to the Beat of Shalom: Christians Revive Kansas City's Arts Scene
The Culture House and Störling Dance Theater have given believers a voice in the local arts scene and beyond, meanwhile bringing a bit of racial peace to the Kansas City area.
8.27.12
When Jeremiah Enna and Mona Störling-Enna prayed to find a city where they could launch a world-class dance company, they expected God to respond with a cultural hotspot like London or Helsinki.
Nearly 20 years later, the two classically trained dancers and husband and wife team smile when they think about where they landed.
"We prayed for about a year-and-a-half and just couldn't get a grip on it. Then we came to visit my brother in Kansas City, Kansas, for Christmas," says Enna, who grew up in the Kansas City area. "My brother said, 'Why don't you move to Kansas City?' We both said, 'Why?' (laughs)"
But after learning of the growing arts community in nearby Kansas City, Missouri, the couple moved into Enna's brother's attic during the summer of 1995 with $800 in their pockets and God's calling on their hearts.
"We were like little immigrants," Störling-Enna says.
Since that time of uncertainty, however, the Ennas and fellow leaders at The Culture House and Störling Dance Theater have given Christians a voice in the local arts scene and beyond, meanwhile bringing a bit of racial peace to the Kansas City area.
Starting something new
Enna, who received a theater degree at UCLA and performed with a dance theater group in Sweden, began organizing a board of directors that would help lay the foundation for The Culture House, a grassroots arts organization with schools of dance, theater, and music. Störling-Enna, who received her professional dance education in Helsinki, Finland, and Paris, continued honing her skills in order to lead what would become Störling Dance Theater, a neo-classical dance company known for its powerful storytelling.
With both projects, the two wanted to merge excellence in the arts with their faith in a way that benefited the Kansas City area, meanwhile raising the bar for Christians in the arts. With the community's increased support for the Kansas City Ballet, the Kansas City Chorale, the Nelson-Atkins Art Museum, and the Lyric Opera on the Missouri side during the 1990s, they arrived at the right time. The seeds for what would become the Kauffman Center for the Performing Arts, which opened in 2011, were also planted during this time.
"We saw that the whole community was starting to focus on the arts," Enna says. "We came here not to 'take over the city for Jesus,' but to at least sit at the table because of the quality of our work."
The vision of The Culture House, which includes the residency of Störling Dance Theater, is to enable quality artists, believers and nonbelievers alike, to have a platform in the marketplace.
The Culture House launched in 1996 in Overland Park, a suburb of Kansas City. It initially resided between a Chuck E. Cheese's and a Hooters. In 2005, the organization bought a larger facility in neighboring Olathe. The extra space proved useful.
"That's when we expanded our school of music and started our school of theater," says Enna, executive director. "We went from 100 students to 450 in one cycle. Then another 650 the next year, and it just grew from there. We now have about 800 students [and are growing."
While The Culture House is a Christian organization, Störling Dance Theater is a dance company run by Christians, not a "Christian dance company." As such, some of its dancers are not Christians. Yet "people still do, even if they're not Christian, ask for prayer," notes Störling-Enna, artistic director. "I'd say 90 percent of the dancers who joined the company and were not Christian have become Christian through the company."
Courtney Kierl-Bourman is one of them. Having danced for Tulsa Ballet Theater, the Kansas City Ballet, and Ballet Omaha, Kierl-Bourman returned to Kansas City after leaving an abusive marriage in California. It had been 14 years since she left Christianity, but as she danced for Störling Dance Theater, her faith was rekindled.
"They didn't even know me, but they heard my story and prayed for my kids," Kierl-Bourman says. "God gave me this group of 13 women who supported me, held me up, and prayed for me every day. It was part of his plan and his way of helping me heal from everything I'd been through."
She finished the past 7 years of her 21-year dancing career with Störling Dance Theater.
"Being in the secular ballet world, Christianity is kind of 'Don't ask, don't tell,'" she says. "You don't know who's a Christian. At Störling, they pray every morning before class."
While not explicitly Christian, Störling does operate the Artist Development Program, which provides pre-professional dancers with nine months of intensive instruction, and helps them develop tools for their life and career, spiritual maturity, physical and mental discipline, and an appreciation of the arts.
"That is a specifically Christian discipleship program," Enna says. "You don't have to participate in the spiritual development, but besides dancing day and night, they take design classes, as well as an apologetics course and a discussion group about Christianity and culture. It's to help those young artists have the discussions, think about their faith, and be prepared for the marketplace . . . It's not just so their faith survives in the arts, but that it thrives and they have the support and the integrity with them going into it."
Today, graduates of the program are receiving scholarships to top dance and theater programs around the country, including the Ailey School, part of the Alvin Ailey American Dance Theater in New York, and theater programs at the University of Harford in Connecticut and Oklahoma City University. Students have also received full scholarships to the Joffrey Ballet's summer program in Chicago.
"Our students are becoming the next leaders because their quality is high and their character is high," Enna said.
With the success of The Culture House model, Enna says he plans to host next summer a Culture Leadership Conference, where he and his team will share The Culture House model with people who want to start something similar in their city.
"The good news is in Detroit, Phoenix, or wherever, there might be an artist to rally around who could build the same momentum and then sit at the table in their community," he says.
Uniting a city
After witnessing the divisive language—including charges of racism among Americans based on a person's political party—during the 2000 election cycle, the Ennas felt compelled to respond artistically through Störling Dance Theater. They found the stories from the 19th-century slave-escape routes to be both haunting and hopeful, and immersed themselves in all things Underground Railroad.
"If you read about it, people say it sprung up out of nowhere. It was a leaderless movement. That's just not true," Enna says. "Clearly, the leader of the movement was the God of the Bible. It sprang up everywhere around the country, predominantly in the churches. The true hero of the movement was God."
The Ennas wanted to go big with the story. They put together a creative team that included world-class African American dancer and choreographer Tobin James, now Störling-Enna's associate artistic director, and wrote an original storyline and original music.
"I spent two years studying the Underground Railroad and slavery," Störling-Enna says. "Literally, the only things I read for two years were about that and the Bible."
After several years of development, Underground debuted in 2008 at the Lyric Theater in Kansas City, Missouri, receiving praise from the local African American community, including its prominent pastors.
Charles J. Briscoe, former pastor of Paseo Baptist Church, remembers three funerals taking place at his church after riots broke out in Kansas City, Missouri, following the assassination of Martin Luther King Jr.
Briscoe retired after 35 years with the church, but continues to work for racial reconciliation in the Kansas City area. He said Underground has done more to bring peace to the city than your average committee meeting.
"I believe it's done as much as anything that I've seen take place here," he says. "If I had the money, I'd like to see that every major city in America see it."
Kansas City Star critic Paul Horsley named Underground one of the city's Top 10 performances of the decade, calling it "one of the most vivid, heartfelt and theatrically astute pieces of dance theater ever to grace a Kansas City stage." On Martin Luther King Jr. Day this year, Störling Dance Theater performed a few scenes from Underground at the Missouri State capitol building in Jefferson City.
Meanwhile, local PBS member station KCPT has agreed to film the 2013 performance at the new Kauffman Center for the Performing Arts and air it 10 times.
The Ennas and their creative team are pleased they have achieved excellence in the eyes of supporters and critics, but they want more than that. They want audiences of Underground to journey through something powerful and arrive on higher ground when the ride is over.
"It's dancing, to me, at its highest level," Briscoe said. "It's a good method of communicating truth."
The Ennas are planning to take Underground to other cities through "UNDERGROUND: An American Experience," once they're able to secure proper funding. They believe it can have a similar healing effect elsewhere. The distressing language they heard in 2000 remains.
"The pot was stirred, and we now have the opportunity to weed it out and continue the good things that have been going on in racial reconciliation," Enna says. "Our hope is to be a part of . . . continuing to put our culture on the right track, where we are a country of Americans, we're equal in value, and we're all working together to create opportunities for everybody."
The Ennas came to the Kansas City area because the community was increasingly supporting the arts. Nearly 20 years after arriving, they are humbled to see their art touch the arts community and beyond.
"If Christianity has been so ineffective during the past 150 years in the arts, it's moving to see that we're part of a bigger picture and that the ship is turning," Enna says. "Christians are now being known for their good work."
Kevin Selders is associate editor at Ascend Integrated Media and lives in the Kansas City area. He's written for This Is Our City about a four-star restaurant in Charlotte, North Carolina.
MORE FROM CHRISTIANITY TODAY