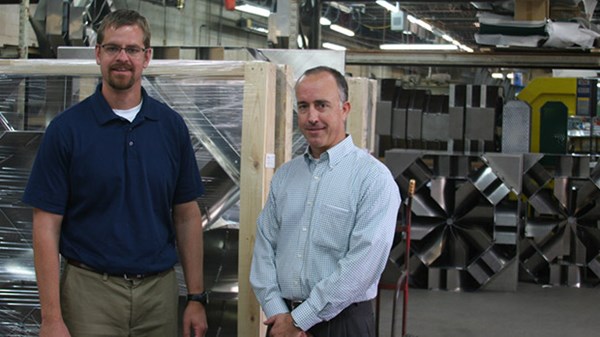 Productivity and Grace: Management and Labor at a Denver Manufacturer
Steve Hill and Jim Howey's leadership style is unusual in an industry known for top-down hierarchies.
9.26.12
"At our company, we are committed to three things: Provision, attention, and inclusion," says Hill. "Even if it's just a few minutes, it's important for our guys to know we care about more than just their work lives."
The Blender Products values aren't just tucked away inside the employee manual, however. They're exemplified in the culture of the company. With an average staff tenure exceeding 12 years, it's clear this is a special place. Six of the nineteen employees have worked there for over 20 years.
The very work that Blender employees accomplish benefits a broader community. On the shop floor, talented metal artisans convert stacks of sheet metal—what looks like an oversized stack of paper—into massive fans that improve the efficiency of machinery by mixing airstreams. Their proprietary mixing designs decrease pollution, reduce machinery fire risks, and improve ventilation wherever they're installed. Fastened in hospitals, schools, office buildings, and factories, they silently make buildings and machines work better and safer. There are many potential customers whom Hill and Howey hope to serve with their products. They say that whatever growth God provides means more opportunities for them to serve, which aligns with their commitment to stewarding what God has entrusted to them.
The manufacturing floor itself breaks norms. Anything but chaotic, the warehouse exudes peace and order. The Blender Products team assigns a high value to cleanliness. Machining expansive swaths of sheet metal is dirty business, but each corner of the facility appears purposeful and organized.
Hill and Howey are unabashed in their Christian identity. They cite Colossians 3:17—"And whatever you do, in word or deed, do everything in the name of the Lord Jesus, giving thanks to God the Father through him"—as a foundational verse for Blender Products.But while faith infuses their work, they also have misgivings about the assumptions many Christians assume about business leaders.
MORE FROM CHRISTIANITY TODAY