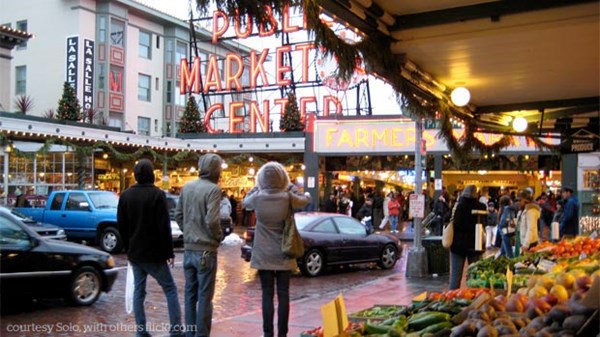 Taste and See That Seattle Is Good—Especially at Christmastime
The bounties of the earth and the best of human creativity direct me to the Maker of all.
12.22.11
Today, there is a community forum to discuss handling urban wildlife efficiently and humanely. "O Holy Night" plays over the speakers. A Santa in glossy black boots joins the crowd, gloved thumbs tucked into his belt. This is so Seattle—a surreal juxtaposition of religion, cultural mythology, and environmental concerns.
Last year I slipped away to The Great Figgy Pudding Corner Caroling Contest at Westlake Center, weaving through a whirl of velvet top hats, reindeer antlers, and elves in striped tights. It's one of the rare times when I enjoy a crowd, shouldering up to strangers to hear carolers in Starbucks' aprons or Dickensian great coats, singing both the sacred and profane. While it's true that the former is sometimes overwhelmed by the latter, there is jubilance in the air. The tide of over 9,000 bodies sweeps me past the gilt and glittering carousel. I stall on a side street and gaze up, past store displays, at the walruses and bas-relief winged lions that embellish the architecture's strong verticals.
This is as urban as I have ever been. I grew up in smaller towns where cranberry and popcorn strings adorned the trees. Luminarias lined walkways, a common candle nested in sand, cradled in a bag, paper crackling in a light wind.
There is history for me here, now, among Seattle's seven hills. Jeff and I have clambered the stone stairways and cobbled streets of upper Queen Anne to reach Kerry Park. This pocket-sized jewel of greenery hangs at the neighborhood's edge, providing the best view of the Space Needle, its slender trunk topped by strands of lights, an art deco tannenbaum.
Below, Pike Place Market throngs with shoppers fingering leather wristlets, lapping up samples of blackberry honey and chocolate-covered Rainier cherries. This is abundance. And while my Presbyterian soul occasionally objects, this too is a gifting, creation's fullness—late season fruits like pomegranates, Port Townsend Creamery cheeses, and red kale—as well as a reflection of the Maker in hand-painted silk and driftwood art. The air is saturated with the scent of coffee and hot oil, cinnamon and, yes, fish.
This year I may not make it downtown at all, except en route to the airport. Some years are like that. Crises arrive unscheduled, and it's as much as I can do to accomplish the mundane with a measure of grace. But I keep my eyes open for the odd ship-to-shore crane hung with red and green bulbs unloading Hanjin containers on Harbor Island.
The Macy's star is radiant above the downtown crowds; a Ravenna neighborhood becomes Candy Cane Lane, a wonderland of crèches, sleighs, and snowmen; luminarias girdle Green Lake Park. A block away, our church family will lift tapers with small clean flames as they sing the last hymn of Advent and look toward Epiphany. It may be that as a city of short, dim winter days we value light more, muffled as we are in rain, surfacing with an exultant gasp on sunny days.
In the early dark, when dry weather and a free evening conspire, the ferry calls us down to where the Sound spreads a net of caught stars. We drift for an hour in the sting of cold air and salt water and, if the wind is right, let the incense of fir- and hemlock-draped hills quiet our souls.
This is part of what we wait for: the lull in activity, citywide, and the moments when we hold what we have received and bow in gratitude.
With the clouds fallen away, we can see the peninsula; there is snow at the edge of our world, on Hurricane Ridge. The moon drops slowly into its slot. It is not hard to imagine shepherds gathering in the cold with their limbs wrapped in lambs' wool, expectant.
Anne M. Doe Overstreet is a poet and editor who has written for Asheville Poetry Review, Nimrod International Journal of Prose and Poetry, DMQ Review, and Cranky, among others. Her first book of poetry, Delicate Machinery Suspended, was published this year. She and her husband, novelist and film critic Jeffrey Overstreet, reside in Shoreline, Washington. Visit Anne on Facebook.
MORE FROM CHRISTIANITY TODAY