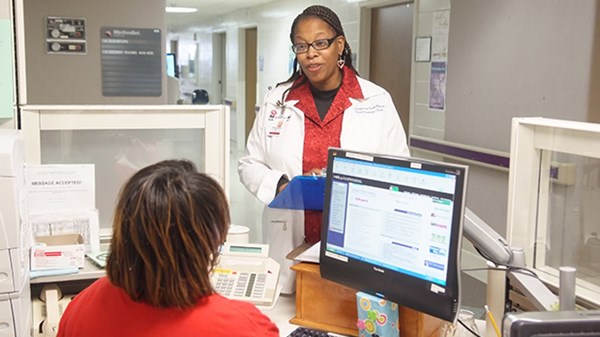 Faith Healing: How Local Churches Are Stepping into Health Care's Gaps
The innovative Congregational Health Network in Memphis relies on local congregations to take care of their members.
6.29.12
At a time when health care may seem more bureaucratic than ever, Gary Shorb has found a way to keep it personal.
The president and CEO of Methodist Healthcare last month drove through some of the poorest pockets of Memphis, Tennessee, stopping to talk to residents about their health problems. Shorb was touring the home turf of Chris Bounds, a native Memphian who had pastored a local Baptist church through the civil rights movement. The assassination of that movement's most powerful leader, at the Lorraine Motel at nearby 450 Mulberry Street, still looms large in the Mid-South city of 650,000.
During a tense meeting in Shorb's office, Bounds had noted how his neighbors and parishioners have a hard time trusting "white men who run white hospitals." Lacking primary care, they would show up at the ER as a final resort, not getting the preventative care they needed and creating inefficient costs for the faith-based hospital network.
Then Bounds turned to Shorb. "Why are we sitting here in your ivory tower trying to decide what my community members need? You need to personally know them, win their trust, and proceed with utmost respect for how they live day to day."
And so Shorb set out on his car ride to build the trust that has proved key to his efforts to connect the seven hospitals in his $1.5 billion network to the city's 2,000-plus churches. Since 2006, the Congregational Health Network (CHN) has equipped over 450 Memphis churches—one-third Church of God in Christ, one-third National Baptist, and the rest a combination of AME, Church of Christ, and United Methodist churches—to promote the physical health of their congregants, many of whom have no social or economic access to Memphis's award-winning healthcare. Each pastor selects a volunteer liaison in the church, who connects fellow members to a "navigator" in one of the local hospitals. Together, the liaison and navigator walk the church member through appointments, medical documents, after care, and other details that would otherwise prove daunting. Not a penny is exchanged between Methodist Healthcare and the churches.
MORE FROM CHRISTIANITY TODAY