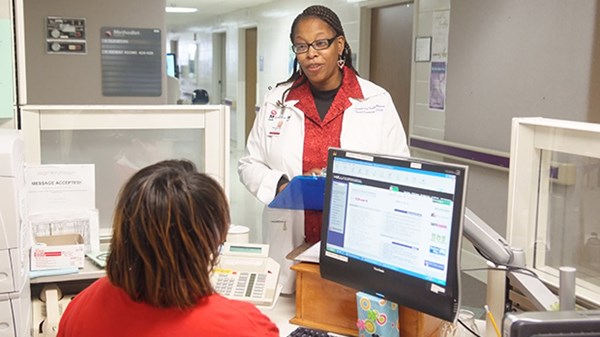 Faith Healing: How Local Churches Are Stepping into Health Care's Gaps
The innovative Congregational Health Network in Memphis relies on local congregations to take care of their members.
6.29.12
At a time when health care may seem more bureaucratic than ever, Gary Shorb has found a way to keep it personal.
The president and CEO of Methodist Healthcare last month drove through some of the poorest pockets of Memphis, Tennessee, stopping to talk to residents about their health problems. Shorb was touring the home turf of Chris Bounds, a native Memphian who had pastored a local Baptist church through the civil rights movement. The assassination of that movement's most powerful leader, at the Lorraine Motel at nearby 450 Mulberry Street, still looms large in the Mid-South city of 650,000.
During a tense meeting in Shorb's office, Bounds had noted how his neighbors and parishioners have a hard time trusting "white men who run white hospitals." Lacking primary care, they would show up at the ER as a final resort, not getting the preventative care they needed and creating inefficient costs for the faith-based hospital network.
Then Bounds turned to Shorb. "Why are we sitting here in your ivory tower trying to decide what my community members need? You need to personally know them, win their trust, and proceed with utmost respect for how they live day to day."
And so Shorb set out on his car ride to build the trust that has proved key to his efforts to connect the seven hospitals in his $1.5 billion network to the city's 2,000-plus churches. Since 2006, the Congregational Health Network (CHN) has equipped over 450 Memphis churches—one-third Church of God in Christ, one-third National Baptist, and the rest a combination of AME, Church of Christ, and United Methodist churches—to promote the physical health of their congregants, many of whom have no social or economic access to Memphis's award-winning healthcare. Each pastor selects a volunteer liaison in the church, who connects fellow members to a "navigator" in one of the local hospitals. Together, the liaison and navigator walk the church member through appointments, medical documents, after care, and other details that would otherwise prove daunting. Not a penny is exchanged between Methodist Healthcare and the churches.
"We're building a covenant relationship," says Shorb, former CEO of a public medical center before joining Methodist Healthcare in 1990. (He became CEO in 2001.) "It's not just that one disease or this disease. And it's not time dated, and it's not experimental. This [covenant] is a fundamental commitment to be in long-term relationship with people who share our deepest values."
That relationship started in 2005, when Memphis Healthcare approached local clergy to understand their congregants' lifestyle choices and habits. Over a year, they worked with Shorb and his team to pair that information with their knowledge of chronic diseases. "The more chronic the condition, the more important it is to understand life[style]," says Shorb. Since 2006, the "shared intelligence" between clergy and clinicians has decreased Memphis's crude mortality rate by about 50 percent, and has saved Memphis Healthcare an estimated $4 million in billable costs. Now 18 other healthcare systems across the country—as well as the White House's Department of Health and Human Services—have approached CHN to learn their secret.
One secret is leveraging churches' influence to prevent poor health before it starts. CHN liaisons register their members to join the CHN network. In exchange, Methodist Healthcare gives churches the tools to offer members free classes about diabetes, high blood pressure, heart disease—all chronic, costly, and endemic to Memphis. (According to CDC, in 2007, 67 percent of Tennessean adults were overweight, 34 percent reported having high blood pressure, and 11 percent were diagnosed with type-II diabetes, all higher than the national rates.) Bobby Baker, director of CHN, says 277 Memphians are currently taking a health and fitness class at their church, and that CHN patients have a 20 percent lower readmission rate than non-CHN patients.
"What we're doing is preparing congregations to better take care of their community," says Baker, also pastor of Magnolia First Baptist Church. "Knowledge can do nothing but better one congregation at a time, and eventually one street, one household at a time."
Knowledge was all Memphian Bill* needed after his wife passed away. An elderly churchgoer with congestive heart failure, Bill routinely overused the hospital, bouncing in and out of the ER eight times in one year. But once CHN started, his church's volunteer liaison started showing up at his home, teaching him how to lose weight and monitor his sodium intake. With her guidance, he began using the hospital less, and this year, he has yet to visit at all. Such stories are what Teresa Cutts, director of research for CHN, calls a "win win," and very common: The hospitals are saving money, and the citizens are getting healthier and more connected to their church community.
Miguel*, on the other hand, needed more than knowledge. In 2010 the 40-year-old patient arrived at Methodist North to learn that he had end-stage metastatic cancer. He desired to return to his native Honduras to spend his last days with his family, but he lacked the money and the stable health for air travel. It looked like he would die in Memphis, until navigator Rafael Miranda stepped in. Miranda worked tirelessly to make Miguel's travel arrangements and agreed to accompany him on the six-hour flight home. When promised church funds fell through, Miranda paid for Miguel's plane ticket (he has since been reimbursed), and arrived with Miguel greeted by his wife and eight children. Miguel died with dignity, surrounded by his loved ones.
CHN's success over six years goes to show, in part, that creating a sustainable health care model in the United States will require more than upping coverage for the underinsured. Shorb notes that President Obama's health-care plan deals mostly with coverage expansion, but underplays innovative plans for preventing health problems. "The majority of what was passed is expansion of Medicaid to cover more of the poor," says Shorb. "But what didn't happen was implementing strategies to improve health status and reduce the total cost of health care in our society." (He estimates health-care costs now run at close to 18 percent of the GDP.)
But reducing costs is secondary to seeing the flourishing of his community, says Shorb. He's hopeful that CHN will inspire more hospital-church partnerships across the country.
"We want to stay in relationship to the other institution who cares about you even more than we do, and that's your congregation," says Shorb. "And whether you're a member of the congregation or just down the street from it, in Memphis, the congregation is a highly trusted organization. And so when you have a trusted hospital and a trusted congregation, you have the chance to stay within range of someone before and after they're sick."
"I came to Memphis because this is a city that is known for what it does not have," says Gary Gunderson, senior vice president for faith and health at Methodist Healthcare. "It has extraordinary poverty and astonishing gaps. But it also has a large amount of faith, and a huge number of faith structures. It's a city that has faith in faith."
Katelyn Beaty is editorial director of This Is Our City.
*Not real name.
MORE FROM CHRISTIANITY TODAY