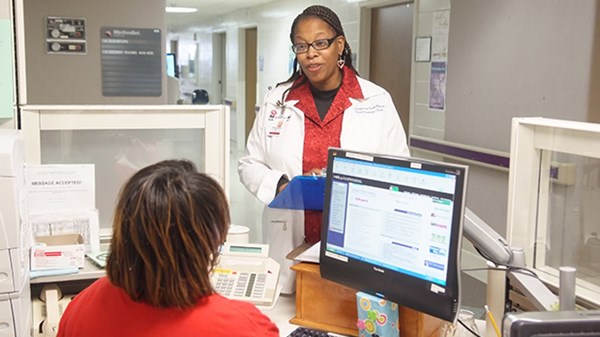 Faith Healing: How Local Churches Are Stepping into Health Care's Gaps
The innovative Congregational Health Network in Memphis relies on local congregations to take care of their members.
6.29.12
"We're building a covenant relationship," says Shorb, former CEO of a public medical center before joining Methodist Healthcare in 1990. (He became CEO in 2001.) "It's not just that one disease or this disease. And it's not time dated, and it's not experimental. This [covenant] is a fundamental commitment to be in long-term relationship with people who share our deepest values."
That relationship started in 2005, when Memphis Healthcare approached local clergy to understand their congregants' lifestyle choices and habits. Over a year, they worked with Shorb and his team to pair that information with their knowledge of chronic diseases. "The more chronic the condition, the more important it is to understand life[style]," says Shorb. Since 2006, the "shared intelligence" between clergy and clinicians has decreased Memphis's crude mortality rate by about 50 percent, and has saved Memphis Healthcare an estimated $4 million in billable costs. Now 18 other healthcare systems across the country—as well as the White House's Department of Health and Human Services—have approached CHN to learn their secret.
One secret is leveraging churches' influence to prevent poor health before it starts. CHN liaisons register their members to join the CHN network. In exchange, Methodist Healthcare gives churches the tools to offer members free classes about diabetes, high blood pressure, heart disease—all chronic, costly, and endemic to Memphis. (According to CDC, in 2007, 67 percent of Tennessean adults were overweight, 34 percent reported having high blood pressure, and 11 percent were diagnosed with type-II diabetes, all higher than the national rates.) Bobby Baker, director of CHN, says 277 Memphians are currently taking a health and fitness class at their church, and that CHN patients have a 20 percent lower readmission rate than non-CHN patients.
"What we're doing is preparing congregations to better take care of their community," says Baker, also pastor of Magnolia First Baptist Church. "Knowledge can do nothing but better one congregation at a time, and eventually one street, one household at a time."
MORE FROM CHRISTIANITY TODAY