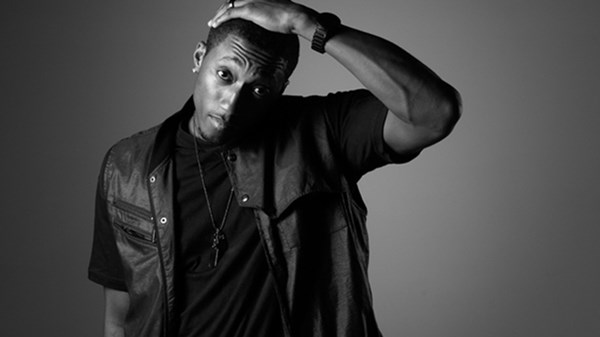 Lecrae's 'Man Up' Mission to Address Father Absence
The 32-year-old Christian rapper says biblical manhood is the key to stopping fatherlessness in Atlanta and beyond.
4.26.12
Man Up is hinging much of its success on a multistate concert tour that recently culminated in a two-day conference in downtown Atlanta featuring several Reformed black pastors.
"Our goal was to give scholarships to individuals and organizations that otherwise wouldn't attend an event like this. We partnered with a lot of local Atlanta-based organizations, non-Christian organizations, to give scholarships for them to attend the event free of charge," said Miguel Davilla, executive director of Reachlife Ministries and Man Up project manager. Davilla noted that Reachlife partnered with local churches as well as the Atlanta Mission, a transition house out of homelessness.
Despite Man Up 2012 being Reachlife's first conference event, the Georgia World Conference Center was filled to capacity April 13-14. Over 2,000 young men ages 13 and up showed up to hear Atlanta leaders such as John Onwuchekwa, pastor of Blueprint church plant, Leonce Crump, former NFL player and pastor of Renovation Church, and Tony Carter of East Point Church address temptation, courage, and biblical manhood.
Tony Carter, senior pastor of East Point on the south side of Atlanta, said the conference was "illustrative of their commitments and vision. Seeing 2,000 mostly young men being challenged and encouraged to man up for Christ was a blessing." Evans calls Reach Records "brothers who are using their platform to reach and teach others for Christ," indicative of the "generation of hip-hop artists who take the Word of God, the church, and the vision for God's kingdom seriously."
Building on the accomplishment of this year's conference, Reachlife just announced another in Atlanta. Unashamed 2013 will be September 13-15.
But Lecrae and Reach's reach is extending beyond Atlanta. "I've seen a larger interest in what I have to articulate from the non-Christian community," said Lecrae. Atlanta politicians are showing interest in partnering with Man Up to address local father absence. And Lecrae was recently invited to speak in Washington, D.C. "I spoke with a lot of Congress members and also to one of President Obama's leaders for his fatherhood campaign," said Lecrae, noting that campaign leaders discussed future collaboration with Man Up.
MORE FROM CHRISTIANITY TODAY