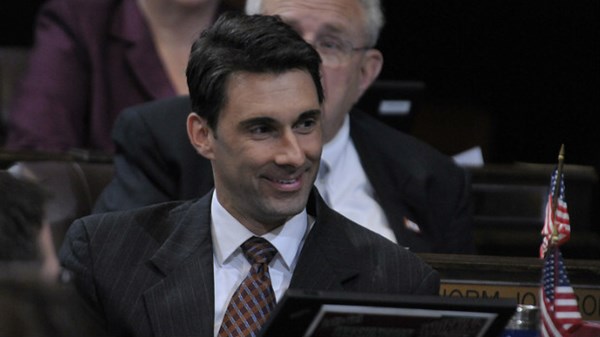 Image: Courtesy of wahousegop / flickr.com
From Columbine to the State Capitol
How the school shooting still shapes Kevin Parker's civic service.
9.19.13
On April 20, 1999, Kevin Parker was standing in the cafeteria of Columbine High School, preparing to eat with a student, when two young men dressed in black stormed in and began firing guns. A Young Life volunteer, Parker says he immediately thought of his wife, Kerry, and the fact that they would never have kids. "I told the Lord I wanted to live deliberately, I wanted to live compassionately, I wanted to live boldly—if I had days beyond that one," says Parker.
As state representative for Spokane's 6th District in the State of Washington since 2008, Parker has been given a chance to do that.
Parker hid with Columbine students under cafeteria tables at the command of a custodian. "There were 500 kids in the cafeteria, and you could hear a pin drop," says Parker. "We were just sitting under the tables waiting to be shot." Parker later learned that he was hiding 20 feet from one of the largest bombs planted by Eric Harris and Dylan Klebold.
The shooters' 45-minute spree took the lives of 14 students (including their own) and 1 faculty member. "There were looks of fear [and] a feeling that something was seriously awry," Parker says. He and many students escaped the school by what Parker calls "miraculous events." In the wake of the tragedy, the Parkers opened their home to grieving students. "For the next six months, we had between 10 and 90 kids in our condo every night," says Parker. "We had so many kids that our carpet actually receded from the entryway." When the Parkers returned home one evening, they found their condo completely recarpeted and repainted through the combined initiative of a Columbine student and community support.
Parker says the shooting brought with it insights that he brings to his political work today. One memory from the day Columbine reopened stands out. "I remember walking down the stairs, the very stairs I'd walked moments before the shooting began, and the custodian was there sweeping the floor just like he was moments before [the shooting started]." Noting how the custodian likely saved many lives, he says, "There is something so powerful about seeing the custodian being called to a moment of greatness and then going back to his ordinary life."
MORE FROM CHRISTIANITY TODAY