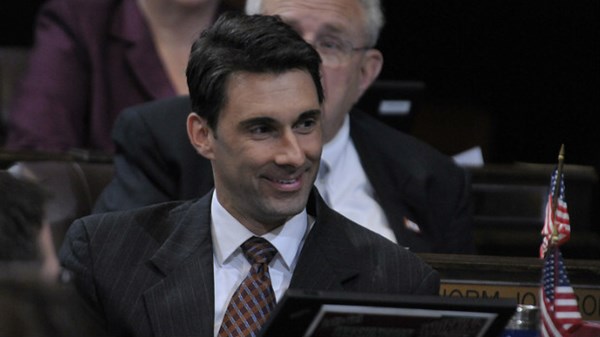 Image: Courtesy of wahousegop / flickr.com
From Columbine to the State Capitol
How the school shooting still shapes Kevin Parker's civic service.
9.19.13
On April 20, 1999, Kevin Parker was standing in the cafeteria of Columbine High School, preparing to eat with a student, when two young men dressed in black stormed in and began firing guns. A Young Life volunteer, Parker says he immediately thought of his wife, Kerry, and the fact that they would never have kids. "I told the Lord I wanted to live deliberately, I wanted to live compassionately, I wanted to live boldly—if I had days beyond that one," says Parker.
As state representative for Spokane's 6th District in the State of Washington since 2008, Parker has been given a chance to do that.
Parker hid with Columbine students under cafeteria tables at the command of a custodian. "There were 500 kids in the cafeteria, and you could hear a pin drop," says Parker. "We were just sitting under the tables waiting to be shot." Parker later learned that he was hiding 20 feet from one of the largest bombs planted by Eric Harris and Dylan Klebold.
The shooters' 45-minute spree took the lives of 14 students (including their own) and 1 faculty member. "There were looks of fear [and] a feeling that something was seriously awry," Parker says. He and many students escaped the school by what Parker calls "miraculous events." In the wake of the tragedy, the Parkers opened their home to grieving students. "For the next six months, we had between 10 and 90 kids in our condo every night," says Parker. "We had so many kids that our carpet actually receded from the entryway." When the Parkers returned home one evening, they found their condo completely recarpeted and repainted through the combined initiative of a Columbine student and community support.
Parker says the shooting brought with it insights that he brings to his political work today. One memory from the day Columbine reopened stands out. "I remember walking down the stairs, the very stairs I'd walked moments before the shooting began, and the custodian was there sweeping the floor just like he was moments before [the shooting started]." Noting how the custodian likely saved many lives, he says, "There is something so powerful about seeing the custodian being called to a moment of greatness and then going back to his ordinary life."
Being With Constituents
After relocating to Spokane, Washington, Parker began considering a transition to politics as an opportunity to represent the heart of Jesus in the political arena. His experience in the community owning the Spokane franchise of the Dutch Bros. coffee shop and experience in Harvard's Executive Leadership program also encouraged him to consider this avenue of service.
Through the combination of relationships and faith, Parker focused his campaign on Spokane's needs—particularly job creation in the private sector, education, and care for the most vulnerable. "I believe every human being wants to be known and loved and seeks purpose," says Parker. "Jobs help build some of that, education prepares people for the next steps in their lives, and Scripture is very clear that widows and orphans are very important to Jesus." Parker has accomplished the former two through legislation that preserves jobs in the private sector and sponsors education first in Washington's budget. He also makes it a priority to give a voice to the homeless most vulnerable by periodically hosting his town hall meetings at a local homeless shelter.
Consistent with his presence at Columbine and later care for students, for Parker, politics first involves being with and available to his constituents. When one of Parker's constituents lost their daughter in an accident at a bad intersection, Parker attended the community meeting about the tragedy. "Even when I didn't know what to say or do, I showed up, because I knew in the name of Jesus and as a politician it was important for me to show up." After that meeting, Parker led a bipartisan effort to secure $14 million for the construction of a bypass. There have been no additional fatalities at the intersection.
Parker's work is not only characterized by meaningful constituent relationships but action that meets the needs of his community. Parker recently passed a bill that increases the penalty for human trafficking. Whereas Washington's previous fine for human trafficking was comparable to a speeding ticket, Parker led an effort that instated both an incremental fine and a rehabilitation component that funds community-based rehabilitation efforts for women who want to escape trafficking.
Parker's tenure also includes legislation that promotes education for low-income children and a foster care bill that extends some of the services for foster youth from age 18 to 21. The latter resonates with Parker, as for the last several years he and Kerry have hosted several foster youth for dinner. "I have never believed that the best way to represent the faith is by words on the House floor but by actions on the street," says Parker.
'Answered Prayer'
Beck Taylor, president of Whitworth University—where Parker graduated from in 1996 and currently teaches adjunct—says, "Kevin is known for his engaging style, for reaching across the aisle, and for knowing his constituents well." According to Taylor, Parker has personally knocked on over 40,000 doors in his bid to serve the 137,000 voters of the 6th District.
Representing Washington's 25th District, Bruce Dammeier entered the House of Representatives at the same time as Parker. Calling Parker an "answered prayer" and a "co-laborer," Dammeier says Parker's faith permeates every aspect of his work and constituent relationships. The two joined a Tuesday morning Bible study where, according to Parker, "Republicans and Democrats gather to talk about Jesus." (Dammeier has since left the House for the Washington State Senate.)
Parker also invited a former Young Life student from Columbine to join him in the House as his legislative aide. Ben Oakley met Parker the day after the shooting. For Oakley, a single word describes Parker's work at Columbine and in the House of Representatives: authenticity. "He cares for people and wants to serve them," says Oakley. "When he is in a meeting with somebody, he treats them as the most important person in the world."
Despite his influence, Parker recognizes his work is transient. Citing his experience at Columbine, Parker says, "There was a day when [my work in the House] started and a day when it will end." Consequently, he says, his service is a brief opportunity to faithfully respond to God's call: "These things are the Lord's; we come into them for a brief amount of time, and then we move on down the road."
In his office at the Capitol hangs a painting of Columbine High School painted by a former student. It reminds Parker of a time when the Lord did something significant. Even though the grief of Columbine will never fully subside, Parker's service suggests that in this moment of terror, God was starting something significant.
Dustin D. Benac is co-writing a book with Terry McGonigal about the biblical theme of shalom. The book will feature the biographies of Parker and others who demonstrate shalom in their work. For more information about the project, follow Benac on Twitter.
MORE FROM CHRISTIANITY TODAY