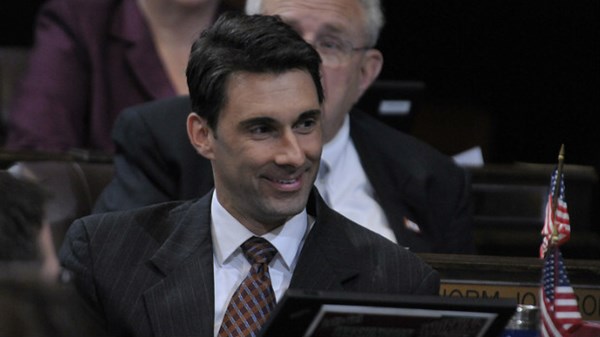 Image: Courtesy of wahousegop / flickr.com
From Columbine to the State Capitol
How the school shooting still shapes Kevin Parker's civic service.
9.19.13
Parker's work is not only characterized by meaningful constituent relationships but action that meets the needs of his community. Parker recently passed a bill that increases the penalty for human trafficking. Whereas Washington's previous fine for human trafficking was comparable to a speeding ticket, Parker led an effort that instated both an incremental fine and a rehabilitation component that funds community-based rehabilitation efforts for women who want to escape trafficking.
Parker's tenure also includes legislation that promotes education for low-income children and a foster care bill that extends some of the services for foster youth from age 18 to 21. The latter resonates with Parker, as for the last several years he and Kerry have hosted several foster youth for dinner. "I have never believed that the best way to represent the faith is by words on the House floor but by actions on the street," says Parker.
'Answered Prayer'
Beck Taylor, president of Whitworth University—where Parker graduated from in 1996 and currently teaches adjunct—says, "Kevin is known for his engaging style, for reaching across the aisle, and for knowing his constituents well." According to Taylor, Parker has personally knocked on over 40,000 doors in his bid to serve the 137,000 voters of the 6th District.
Representing Washington's 25th District, Bruce Dammeier entered the House of Representatives at the same time as Parker. Calling Parker an "answered prayer" and a "co-laborer," Dammeier says Parker's faith permeates every aspect of his work and constituent relationships. The two joined a Tuesday morning Bible study where, according to Parker, "Republicans and Democrats gather to talk about Jesus." (Dammeier has since left the House for the Washington State Senate.)
MORE FROM CHRISTIANITY TODAY