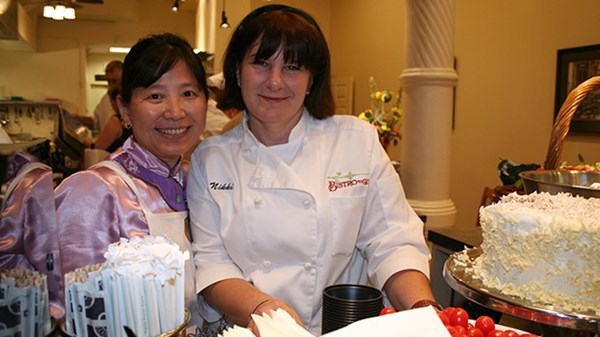 Good Eats and Evangelism: A Whole-Gospel Restaurant Serving Pittsburgh's Soul
Chef Nikki Heckmann's Bistro To Go offers tasty ingredients to revitalize Pittsburgh's North Side neighborhood.
8.16.12
Bistro To Go almost didn't happen. At one point after her conversion, Heckmann left the restaurant industry, went to seminary, and served a stint on ACAC's pastors' team. But the chef soon realized she was no longer in the right vocation. "I went to our senior pastor and said, "I'm confused. I'm on the pastors' team but further away from the people I used to work with in the kitchen. I'm hands-on, I like evangelism, I do street-level stuff." Wisely, the pastor responded by giving Heckmann a few months' leave to explore her calling. The church even paid her salary for several months while she got Bistro off the ground.
She ended up coming full circle. Heckman had grown up "a suburbanite through and through" but got acquainted with and loved the diversity of the North Side community as a college student. At age 20, she landed her first restaurant job at a Hardees on E. Ohio Street, a short hop from ACAC. Years later, as a new believer at ACAC, Heckmann took up Pastor Bruce Jackson's challenge to move into the urban community. Though a family friend tried to convince Heckmann that North Side was too dangerous, she plunged ahead. Living there only deepened her passion for the community. Starting a café on E. Ohio Street seemed almost destined. "This street has always been my passion and focus," she says.
MORE FROM CHRISTIANITY TODAY