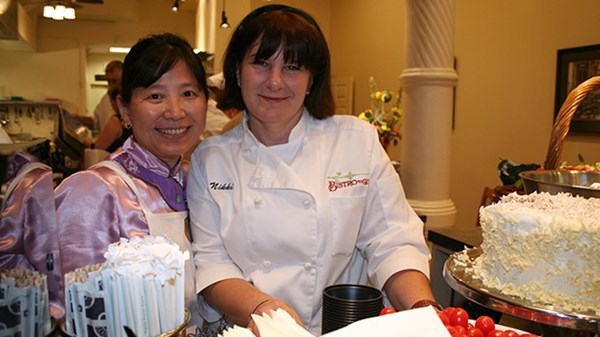 Good Eats and Evangelism: A Whole-Gospel Restaurant Serving Pittsburgh's Soul
Chef Nikki Heckmann's Bistro To Go offers tasty ingredients to revitalize Pittsburgh's North Side neighborhood.
8.16.12
The first year was scary. Over her career, Heckmann had opened numerous restaurants, but this was a risky financial venture. Locating to a neighborhood with visible drug dealing, on a lot with no parking, her expectations for sales were low. "I came in with four staff thinking I'd be baking pies and mentoring a few kids," Heckmann says. "But that first day we did $3,600."
The surprising economic success has continued. Last year, Bistro brought in $1.4 million. Heckmann has opened a second restaurant, Bistro Soul, next door, which features health-conscious Southern cooking made from scratch. She uses the profits to create jobs and strengthen local nonprofits serving North Side. For now, she works without a salary to free up as much cash for payroll as possible, and many of her hires are people who faced barriers to employment. To uphold local nonprofits, Heckmann offers a 10 percent discount on catering, allows local organizations use the Bistro's community room for free, and promotes their work through special events.
"I think it's entrepreneurship that will change our inner cities," Heckmann argues. "It's not more nonprofits, it's not more media, it's not more government." Currently her cafés employ 46 people, including urban youth who come to her as summer interns through her partnership with the Pittsburgh Advisory Board. "We want to really change E. Ohio Street's economy, so it can thrive and be a place for families to come to," Heckmann says. Already, other businesses on the street have perked up their storefronts: "When my building looks beautiful, it raises the standard for others," notes Heckmann. Plus, the high foot traffic into Bistro has intimidated local pimps who've moved their prostitutes elsewhere. "When you bring light into darkness," Heckmann enthuses, "the darkness leaves."
MORE FROM CHRISTIANITY TODAY