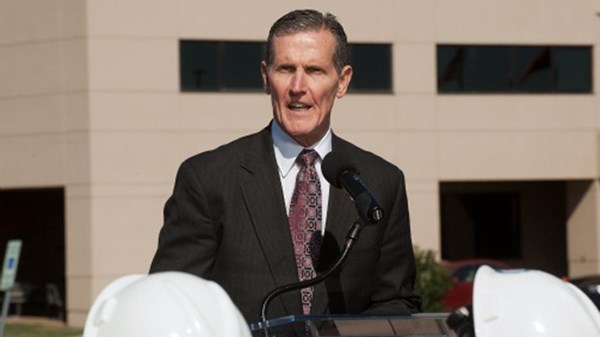 The Baylor CEO Changing the Health-Care Debate
Joel Allison, head of Baylor Health Care System, says service and preventive care are key to changing U.S. standards
3.6.12
Joel Allison had every intention of entering the ministry when he arrived at Baylor University on a full athletic academic scholarship. He just didn't anticipate what kind of ministry would be involved. A chance visit to a small-town Texas hospital shifted his vision.
The road to becoming CEO of Baylor Health Care System—one of the largest health-care systems in the country, with nearly 20,000 employees in the Dallas-Fort Worth area—began when Allison shadowed his brother-in-law, a physician in Fort Worth, for a photojournalism project. Allison had been in a hospital once before, after a high-school football injury, and was fascinated by the environment. But he knew he didn't want to be a doctor or nurse.
A few weeks later, Allison joined his brother-in-law on a visit to Uvalde, about 85 miles west of San Antonio. They toured the hospital there and learned that the CEO had been planning to enter the ministry, but instead pursued graduate work to become its administrator.
"It was one of those moments when the light bulb went on," Allison recalls. "I thought, Wow, I hadn't thought about that side of it."
With the doors closing on his pursuit of a seminary degree, he finished his studies at Baylor, served briefly in the Marines and then turned to Trinity University in San Antonio, where he earned a master's degree in health-care administration. Operating hospitals, he concluded, was his ministry.
"Our mission statement is very clear: We were 'founded as a Christian ministry of healing,' " Allison, 64, said of the nonprofit Baptist-run Baylor system, which he became president and CEO of in 2000. "My role is to be sure we keep a focus on our mission … to determine how we gather and allocate resources to meet our mission."
Those resources go well beyond Baylor's network of 27-owned, joint-ventured or affiliated hospitals; 26 ambulatory surgery centers; and the Baylor Research Institute. In 2010, the system established an Office of Mission and Ministry to encompass its existing chaplaincy and pastoral education programs. Included was a new Faith in Action program that enables doctors, nurses, and other staff members to serve on mission trips and deliver medical equipment, medicine, and supplies to underserved and disaster-stricken areas.
What Allison doesn't describe in an interview is his role in establishing the office.
"Without Joel's … desire to see mission have a decision-making place at the table, it just wouldn't have happened," said Mark Grace, vice president of the Office of Mission and Ministry and leader of the chaplaincy program.
Allison told Grace there had to be "a better way to focus all the resources we have in support, not just of bedside care, but of spiritual care in our communities." Allison challenged him to figure out how to do that in a sustainable way, eventually assigning top decision-makers at the system to help Grace get the office up and running.
Today, the office employs nearly 80 full-time and contract staff members, serving patients and working with dozens of religious organizations, Baptist and non-Baptist, to get medical supplies to places that need them most. The office also helps Baylor staff understand their own vocation.
"We have many people come to Baylor in all areas - clinical, nonclinical - with a sense of calling," Allison said. "We have all faiths represented on our staff, yet there's an understanding that the way in which we care … is a ministry."
Grace notes Allison's willingness to stand up for a commitment to ministry to those "of all creeds and those of none," during discussions about establishing an interfaith prayer garden at Baylor University Medical Center in 2003. "A lot of people were really, really nervous about it," Grace recalled, saying many wondered whether Baylor had given up its Baptist identity. But Allison defended the garden.
"[Allison] is a person of deep conviction and deep faith … [the garden] is an expression of our compassion for people of all faiths and those of none," Grace noted. "This is also an expression of our trust in God, and we do the right thing, and that is to care for people and respect people, and that's the very best witness."
That witness, Allison insists, extends to the area's most underserved communities. For example, Baylor invested $15 million in renovating a recreation facility in economically challenged southern Dallas, creating a wellness center that emphasizes diabetes management and prevention. The city of Dallas contributed $2 million toward the project.
The center, which opened in June 2010, has a full-time physician and offers classes in nutrition and exercise, and a farmers market offering fresh produce.
"We're trying to focus on the preventive side rather than having patients come to our acute care/trauma center too late, where they'd see loss of limbs and co-morbidities" related to diabetes, Allison said. "We're trying to get ahead of the curve. We're trying to establish a new model of care delivery—a way to influence health-care reform."
In Allison's view, a key to reform is focusing on access to care and moving "from sick care to population health management," particularly in light of an aging population. He says the federal Patient Protection and Affordable Care Act hasn't sufficiently addressed population health management, focusing more on insurance coverage than health-care delivery. "We've got to change that," he said.
The current U.S. system, he said, isn't financially sustainable. From a practical standpoint, Allison said, it's simply more cost-effective to offer patients preventive care and other tools to help them manage their health.
That said, "We need to pay for the less fortunate. We need to have coverage for the indigent population," he said. "They need to have access to care, because then they can get the prevention and wellness [education they need]."
Allison is concerned about the rancor of the Affordable Care Act debate, which he once characterized as "The Good, the Bad and the Ugly."
"This is really bipartisan," Allison said. "It rapidly devolved from intelligent debate to very partisan acrimony and sound bites, and we lost the opportunity to really look at how can we address a need and provide access to quality care for all people."
Allison had been an early advocate for health care reform and preventive health management well before the recent debate over Obamacare. His high profile in the field has landed him on Modern Healthcare's "100 Most Influential People in Healthcare" list from 2005 to 2010. And B'nai B'rith (a Jewish service nonprofit) awarded him its National Healthcare Award last year.
As he did with the interfaith garden, Allison used his role to defend another controversial move: the system's decision last fall not to hire tobacco users. The decision drew national attention, and Allison acknowledged "some pushback" from a few employees and others outside Baylor. But he said the reaction was overwhelmingly positive from Baylor staff and the public.
The policy, he said, "goes back to the fact that we're in the ministry of healing. It's about what we do: giving hope and health and saving lives."
Caring is something Gary Cook sees in Allison. Cook, president of Dallas Baptist University, didn't know Allison well when both attended Baylor in the late 1960s, but got to know him in Baptist leadership circles and as a fellow deacon at Park Cities Baptist Church in Dallas. He mentions the Christmastime visits that Allison and his family make every year to patients, but such visits occur beyond the holidays. "He checks on a lot of the people at the hospital, just to offer an encouraging word," Cook said. "I don't know how he has so much time to do all this, but he does."
He knows firsthand that compassion: When Cook was being treated for leukemia in 2007 at Baylor's flagship hospital, Allison visited him frequently with prayers and encouragement.
"I was there for 32 days, and he came by for 25 of those days," recalled Cook, who has been in remission for the past four years. "It'd be unusual even for a close friend to do that."
Administration, Cook said, is Allison's spiritual gift. "But he has that other side where he's genuinely interested in people as people," he said.
That interest extends from patients to staff, said Grace, who counts Allison as a mentor.
"His encouragement to me is to think about my own calling, whether it's what God is calling me to do in this organization," Grace said.
Allison's focus and drive are typical of effective CEOs. But add a pastoral dimension that reaches out with compassion and care from the boardroom to the hospital room, and you have a vision that sees a ministry in the business of healing.
Joyce Garcia is a reporter with In Christ Communications.
MORE FROM CHRISTIANITY TODAY