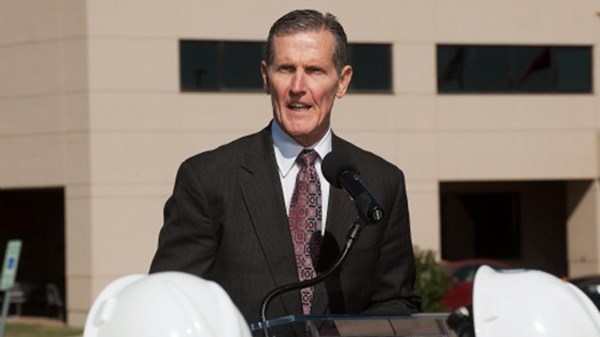 The Baylor CEO Changing the Health-Care Debate
Joel Allison, head of Baylor Health Care System, says service and preventive care are key to changing U.S. standards
3.6.12
Joel Allison had every intention of entering the ministry when he arrived at Baylor University on a full athletic academic scholarship. He just didn't anticipate what kind of ministry would be involved. A chance visit to a small-town Texas hospital shifted his vision.
The road to becoming CEO of Baylor Health Care System—one of the largest health-care systems in the country, with nearly 20,000 employees in the Dallas-Fort Worth area—began when Allison shadowed his brother-in-law, a physician in Fort Worth, for a photojournalism project. Allison had been in a hospital once before, after a high-school football injury, and was fascinated by the environment. But he knew he didn't want to be a doctor or nurse.
A few weeks later, Allison joined his brother-in-law on a visit to Uvalde, about 85 miles west of San Antonio. They toured the hospital there and learned that the CEO had been planning to enter the ministry, but instead pursued graduate work to become its administrator.
"It was one of those moments when the light bulb went on," Allison recalls. "I thought, Wow, I hadn't thought about that side of it."
With the doors closing on his pursuit of a seminary degree, he finished his studies at Baylor, served briefly in the Marines and then turned to Trinity University in San Antonio, where he earned a master's degree in health-care administration. Operating hospitals, he concluded, was his ministry.
"Our mission statement is very clear: We were 'founded as a Christian ministry of healing,' " Allison, 64, said of the nonprofit Baptist-run Baylor system, which he became president and CEO of in 2000. "My role is to be sure we keep a focus on our mission … to determine how we gather and allocate resources to meet our mission."
Those resources go well beyond Baylor's network of 27-owned, joint-ventured or affiliated hospitals; 26 ambulatory surgery centers; and the Baylor Research Institute. In 2010, the system established an Office of Mission and Ministry to encompass its existing chaplaincy and pastoral education programs. Included was a new Faith in Action program that enables doctors, nurses, and other staff members to serve on mission trips and deliver medical equipment, medicine, and supplies to underserved and disaster-stricken areas.
MORE FROM CHRISTIANITY TODAY