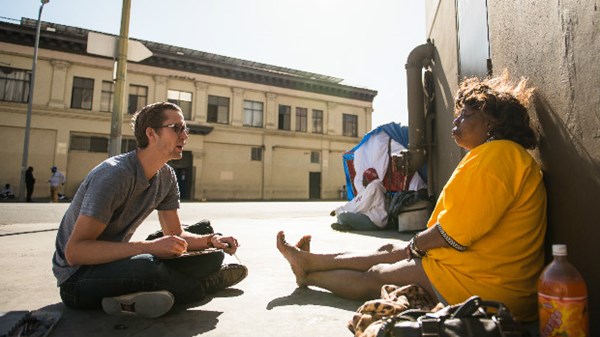 How One Artist Turns Skid Row into Sacred Streets
An interview with Los Angeles's Jason Leith about his new installation that features portraits of the homeless.
6.7.13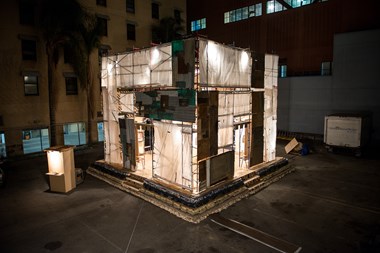 You don't find many artists walking the streets of Skid Row for inspiration. But for five years Jason Leith has done just this, rendering its beauty in ways that marry artistic excellence with social responsibility. "I had a relevation that . . . I did not have to choose between the two or practice them separately," says Leith. A 2013 graduate of Biola University's Torrey Honors with a BFA in drawing and painting, Jason's Sacred Streets features twelve portraits of homeless people whom he met and drew right on Skid Row.
Last month during the Downtown L.A. Art Walk, Leith's portraits were housed in a temporary, 25-foot cube built out of scaffolding and reclaimed materials. The portraits were drawn and etched with "saint-like symbolism on reclaimed found objects," says Leith. On Opening Night, around 500 people saw the portraits, and about 100 more came each of the following five days of the exhibit. "Attendees said, 'I now see the homeless differently. I see their humanity, their beauty, and how they are made in the image of God,' " says Leith.
I spoke recently with Leith about the symbolism of the project, how it's been received, and how it models a new way for communities to engage homeless populations.
Who is Sacred Streets meant for?
The art is primarily meant to be a gift to the homeless community. The art was about them and for them. But I was sure to keep a few different audiences in mind—the general public coming from outside Skid Row as well as the art world at large. It is not an easy task to communicate effectively to such diverse communities as the homeless and art critics and gallerists. I would love for Sacred Streets to show artists the possibilities of art-making and how it can function so powerfully as a vehicle for social engagement, social change, and relationship.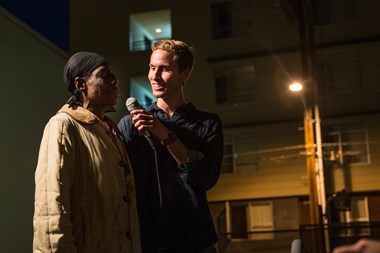 Can you walk us through some of the most significant symbolism at work in Sacred Streets?
The materials, whether a cupboard door reclaimed from a house fire or a piece of cardboard salvaged from a dumpster, allude to the city and life on the streets. As they take shape, they shift from a piece of trash to a valued and even sacred treasure. These objects become more than simple canvases for the portraits of the subjects; they rise to tell their own redemptive stories.
The space (the outdoor installation) was all about the collision of the sacred with the mundane, the heavenly with the earthly. As you walk through Skid Row, you are hit with the corruption of the city. But then you arrive at this grand, sacred space built out of the very materials you just deemed profane, you're forced to look back and reassess the streets you just walked.
What is the process involved in developing the portraits?
All of the portraits begin by sitting with the subject and drawing them, face to face, on the streets as I get to know their story. This is the most important part of the process for me. Being there on Skid Row felt uncomfortable; I stuck out like a sore thumb all the way up until the moment I began the drawings. It was then that the people saw past me, a clean middle-class white kid, and were simply in awe of the drawing. It showed time and time again that art can be a bridge to giving dignity and honor and a vehicle for making someone feel seen and valued.
I then bring the portrait, pictures, and found objects back to my studio and begin to formulate that person's finished piece, integrating shapes, symbols, and materials that resemble traditional images of saints and icons.
At CIVA, you wrote about the importance of "feeling human" as an integral ingredient to enacting justice. How might the vocation of the artist help to communicate "feeling human" through their work?
An intrinsic theme in every good work of art is transcendence of the physical. The vocation of the artist, whether they intend it or not, is to continually affirm physicality and particularly humanity, in the deepest and most raw sense of the word. As artists create paintings, sculptures, dances, and songs, we are showing the beauty and transcendence of physical form—humanity, if you will. Feeling human is found in a simultaneous recognition of the spiritual and the physical—something art is constantly revealing.
In general, how have the homeless people you encountered received your work?
Every person seems to have felt honored by their portrait. Every time I show them their drawing for the first time, they are stunned, joyful, or speechless.
The subjects shared their stories, raw and unedited, within minutes and I think it was because they truly felt seen for the first time in a long time. I remember one comment from a subject named James, who said, "They say you can tell it all in the eyes . . . So waddya see in my eyes?" James felt seen.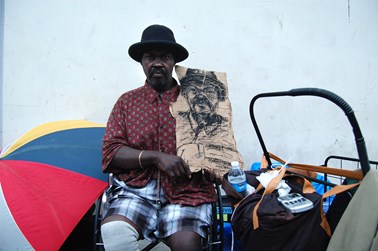 One man, Robert, who had been addicted to cocaine for decades and living on the street for just as long, called me from a rehab program a week after his portrait. He told me that he had been clean for 48 hours and had finally decided to get his life back together, and he said it was all because of his portrait. I was in disbelief.
Many "assistance to the poor" models default to a kind of patron-client relationship. But in your model of social engagement, you not only contribute to the homeless in non-material ways, but they contribute to your artistic endeavor, not merely their face, but also their story and tone.
Yes, not only were these individuals inspiration for these art pieces, they also became the builders of the space, the speakers at the show opening, and the advocates and docents that week at the gallery. Viewers had the chance to write notes to the subjects and place the notes in receptacles under each image in a sort of exchange system inspired by what happens in a cathedral, with the lighting of candles and saying prayers. Knowing that these notes would be read by the individuals afterward meant that the viewers weren't acting as patrons. They wrote about how they were inspired and changed by the subjects. This art project was able to meld together artistic practice and meaningful relationship at a level that went way beyond what I hoped possible.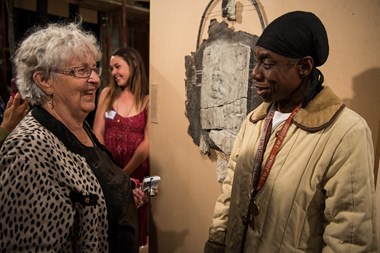 Whether in thought or in practice, who have been your exemplars to help you conceive of and understand Sacred Streets?
Some people would include Paul Hebblethwaite, founder of Art and Shelter, who helped develop my philosophy on the importance of bringing art to places like homeless communities; John Chan, an architect who helped to push my thinking on Paradise and its elements; Vik Muniz, who showed me the possibility of combining art and social engagement as he played it out in the garbage dump pickers of Rio de Janeiro; and writer [and executive director of This Is Our City] Andy Crouch, who helped me to see what it means to be creating after our Creator God, re-creating from already existing creation.
Over the past few decades, a lot of ink has been spent on the "role of the arts in the church." But how does Sacred Streets remind us of the presence of God and his kingdom through the people of God in the world?
Sacred Streets was able to remind people of God's presence not just in those with buoyant and joyful spirits, or those standing behind a pulpit, but also in those who are poor in spirit, those who struggle with addiction, and those who live in the dirt. It showed the possibility of divine sanctuary even in a place where you are inclined to hold your nose because of the stench. Sanctuary, divinity, and beauty are wherever we see them and choose to usher them in.
This exhibition was held in the middle of Skid Row and in tandem with the Downtown L.A. Art Walk. It was definitely part of these communities, but the values and themes of Sacred Streets stood out from their normal ways and modes of thinking. These were very deeply spiritual themes, but . . . anyone of any background and belief system could readily engage with the work because the work was created with them and about them, and displayed in their living space—so it came to them first.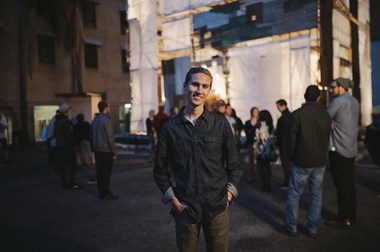 Image: Test
What's next for you?
I have been leading an arts initiative called Ex Creatis at Saddleback Church for the past year and a half, and I am so excited to get to focus in on that now that school is done for a time. I would love to make Sacred Streets part of what we do at Ex Creatis and just continue to bring art to places like Skid Row. I see myself continuing to lead Ex Creatis for a good amount of time. Our current vision is to see it become the heart of creative culture in Orange County California, so my work is cut out for me.
To learn more about Jason Leith's work, visit JasonLeithArt.com. Adam Hillyer at Storyline Film recently released a two-minute documentary about "Sacred Streets." Joseph E. Gorra is the founder and director of Veritas Life Center, a 501(c)3 religious nonprofit devoted to the promotion of Christianity as a knowledge and wisdom tradition relevant for living life.
MORE FROM CHRISTIANITY TODAY