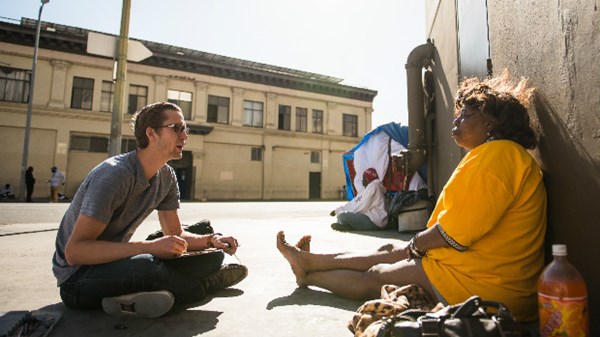 How One Artist Turns Skid Row into Sacred Streets
An interview with Los Angeles's Jason Leith about his new installation that features portraits of the homeless.
6.7.13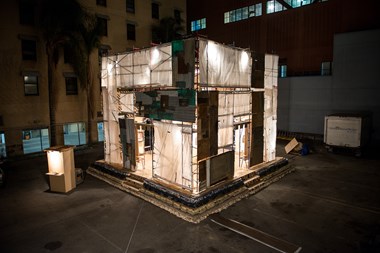 You don't find many artists walking the streets of Skid Row for inspiration. But for five years Jason Leith has done just this, rendering its beauty in ways that marry artistic excellence with social responsibility. "I had a relevation that . . . I did not have to choose between the two or practice them separately," says Leith. A 2013 graduate of Biola University's Torrey Honors with a BFA in drawing and painting, Jason's Sacred Streets features twelve portraits of homeless people whom he met and drew right on Skid Row.
Last month during the Downtown L.A. Art Walk, Leith's portraits were housed in a temporary, 25-foot cube built out of scaffolding and reclaimed materials. The portraits were drawn and etched with "saint-like symbolism on reclaimed found objects," says Leith. On Opening Night, around 500 people saw the portraits, and about 100 more came each of the following five days of the exhibit. "Attendees said, 'I now see the homeless differently. I see their humanity, their beauty, and how they are made in the image of God,' " says Leith.
I spoke recently with Leith about the symbolism of the project, how it's been received, and how it models a new way for communities to engage homeless populations.
Who is Sacred Streets meant for?
The art is primarily meant to be a gift to the homeless community. The art was about them and for them. But I was sure to keep a few different audiences in mind—the general public coming from outside Skid Row as well as the art world at large. It is not an easy task to communicate effectively to such diverse communities as the homeless and art critics and gallerists. I would love for Sacred Streets to show artists the possibilities of art-making and how it can function so powerfully as a vehicle for social engagement, social change, and relationship.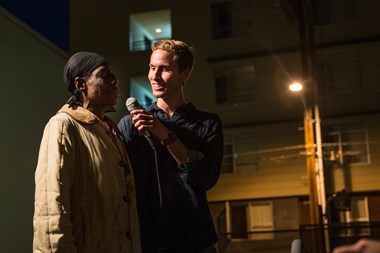 Can you walk us through some of the most significant symbolism at work in Sacred Streets?
The materials, whether a cupboard door reclaimed from a house fire or a piece of cardboard salvaged from a dumpster, allude to the city and life on the streets. As they take shape, they shift from a piece of trash to a valued and even sacred treasure. These objects become more than simple canvases for the portraits of the subjects; they rise to tell their own redemptive stories.
MORE FROM CHRISTIANITY TODAY