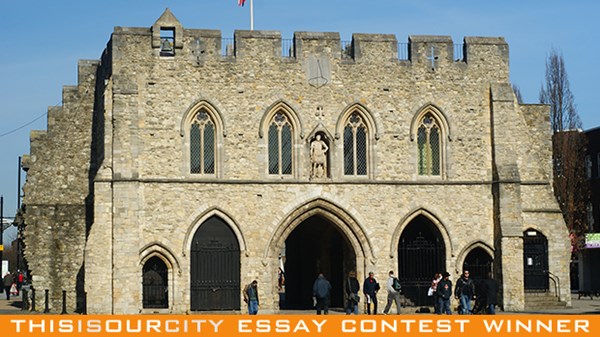 How UK Christians Can Respond to Secularism
Instead of separating from our local government, churches in my hometown partnered with it.
8.19.13
Five years ago I left Southampton, a place that will in some way always be home. My parents remain; my sister and her family too. My nephew Josiah, born a few weeks ago, entered this world in the same hospital ward I did nearly 30 years ago. It is a city I love, and a city in difficult times. But Southampton is also a city with churches committed to helping it prosper once again.
In 1925, the Methodist Central Hall was built in the center of Southampton. On the scaffolding stretching across the half-finished structure hung a sign calling for workers. But it wasn't a call for carpenters and masons; it was a call for workers to carry out the work of the church: "Workers wanted with grace, grit, and gumption." For a food bank, a clothing bank, a poor man's lawyer, maternity care, Boys' Brigade, Girls' Brigade. It is not a new thing for the church to serve the city. It is just something it has on occasion forgot.
If the church really has good news, then it needs to make a difference to those who need it most. And Southampton, like communities across the United Kingdom, is in need. One London Borough produced a graph showing their declining income against the rising cost of adult and child social care. By 2022, they will afford nothing else. That means no libraries, no youth clubs, no pot holes filled, no bins collected. The funding crisis for local government in the UK is very real, urgent, and will get worse before it gets worse
About the time I was praying on the walls of the city, the Council was also reforming the governance of several schools. They invited bids from businesses, universities, and charities to take over running the schools. In a fit of outrageous desire to serve the city, my church, New Community Southampton, threw its hat into the ring. Four schools being merged into two, in two different but similarly deprived parts of the city, contracted out as part of the government's academies program for 125 years. And they chose us.
MORE FROM CHRISTIANITY TODAY