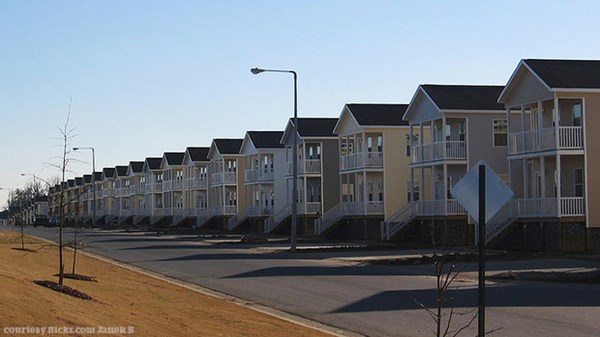 Why Suburbia Really Is Affecting Your Spiritual Life
Eric Jacobsen, author of 'The Space Between: A Christian Engagement with the Built Environment,' says place matters for human flourishing.
10.5.12
It's rare to find a pastor who is attuned to how "place" informs human experience and community. But a discerning pastor can know more about this than most city planners, if they are attentive to the particular shape of the lives of their congregants and their community. Enter Eric O. Jacobsen (PhD, Fuller Theological Seminary), a pastor of 14 years, the last 5 as senior pastor of First Presbyterian Church of Tacoma. "I am not a trained architect or urban planner, but an ordinary pastor who has always lived within walking distance of my church," he says.
Jacobsen's 2003 "break-out" book, Sidewalks in the Kingdom (Brazos Press), used the tenets of New Urbanism to help Christians recognize the value of local churches in local neighborhoods. Jacobsen calls his newest book, The Space Between: A Christian Engagement with the Built Environment (Baker Academic), a "more mature reflection" on the subject.
"I've lived almost my whole life in mixed-use neighborhoods where every house looks different and you could walk to the store to get milk or to a coffee shop," he says. "I live in a small city . . . with my wife, four children, and eight chickens. All of our kids can walk to each of their schools."
In his interview with researcher Joseph Gorra on behalf of This Is Our City, Jacobsen demonstrates how Christians might think about spiritual formation as it enfolds in particular spaces.
What do you mean by the phrase "built environment" in the subtitle of your book?
The built environment is the physical setting of the public realm—literally the space between the buildings.
We don't pay much attention to it because the spaces between strip malls, fast-food joints, and big-box stores don't work very well as public spaces. They are set up for the efficient movement of cars. When we go to older American or European cities, or walk around neighborhoods that were built before WWII, we get some sense of what the built environment can be.
MORE FROM CHRISTIANITY TODAY