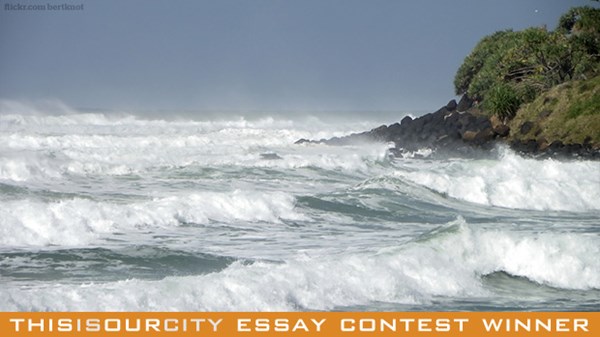 Jesus Is Coming, So Save a Wave
Surfing for the common good of my Australian city.
2.4.13
Dropping down the face of a wave into a hollow, translucent green barrel, then pumping down a seamless line, only to be spat out on the other end, all while maintaining a graceful stance—this is an experience that cannot be contained. The deep and immeasurable stoke, which only a surfer knows, time and again returns me to my childhood, when my joy of surfing was pure and unabashed. My dad and I had the best sessions in the early morning. At the time I couldn't help sharing my euphoria with every person in and outside of the water. But like a child who first learns about death, so my delight is silenced when I see the death of yet another wave.
Coastal preservation may not be a conversation piece for most Christians. But for me it is a way of life. In 2008, my wife and I transplanted ourselves from Southern California to the Gold Coast of Australia, a Mecca for surfing pilgrims worldwide, so that I could take a break from seminary and study surfing at a local Australian university. That's right, I was earned a major in surfing. Although it was a formal break from theological studies, it became a year of advanced pastoral studies in surf culture and environmental activism.
As the pastor of a small Presbyterian church on the Gold Coast, the weekly Sabbath reminds me that God showers his grace upon his people through his Word and sacraments. But as a surfer, the Sabbath also reminds me that God has drenched his creation in grace through the creative power displayed in our oceans, beaches, and waves. As Wendell Berry proclaims, "There are no unsacred places; there are only sacred places and desecrated places." As both a pastor and surfer, it is my passion to protect the sacredness of both the local church and the local beach in the city I call home.
There are more surfers in the Gold Coast, a city of half a million, than any other city in the world, and surfing delivers $3 billion annually to the local economy. Yet sadly, the Gold Coast is a poorly managed coastline. Our beaches have lost several world-class waves to sand pumping projects, which have turned reefs into buried treasure and transformed a once-bountiful ocean playground into a desert. Handfuls of other waves are currently endangered from creek and river mouth dredging to beach erosion dramas, plus proposals for cruise ship terminals, which would literally bulldoze several renowned and iconic surf breaks. In addition, local citizens are generally uneducated or unwilling to deal with the rubbish and plastic debris on their beaches and in their water.
MORE FROM CHRISTIANITY TODAY