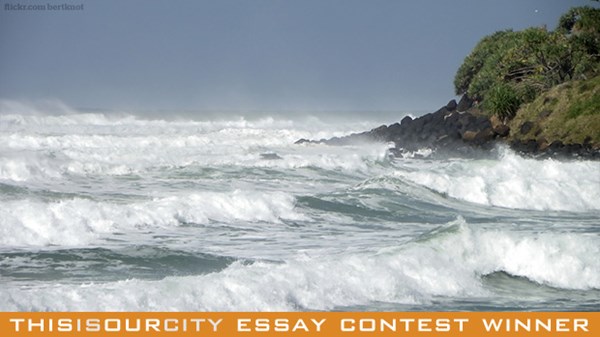 Jesus Is Coming, So Save a Wave
Surfing for the common good of my Australian city.
2.4.13
Dropping down the face of a wave into a hollow, translucent green barrel, then pumping down a seamless line, only to be spat out on the other end, all while maintaining a graceful stance—this is an experience that cannot be contained. The deep and immeasurable stoke, which only a surfer knows, time and again returns me to my childhood, when my joy of surfing was pure and unabashed. My dad and I had the best sessions in the early morning. At the time I couldn't help sharing my euphoria with every person in and outside of the water. But like a child who first learns about death, so my delight is silenced when I see the death of yet another wave.
Coastal preservation may not be a conversation piece for most Christians. But for me it is a way of life. In 2008, my wife and I transplanted ourselves from Southern California to the Gold Coast of Australia, a Mecca for surfing pilgrims worldwide, so that I could take a break from seminary and study surfing at a local Australian university. That's right, I was earned a major in surfing. Although it was a formal break from theological studies, it became a year of advanced pastoral studies in surf culture and environmental activism.
As the pastor of a small Presbyterian church on the Gold Coast, the weekly Sabbath reminds me that God showers his grace upon his people through his Word and sacraments. But as a surfer, the Sabbath also reminds me that God has drenched his creation in grace through the creative power displayed in our oceans, beaches, and waves. As Wendell Berry proclaims, "There are no unsacred places; there are only sacred places and desecrated places." As both a pastor and surfer, it is my passion to protect the sacredness of both the local church and the local beach in the city I call home.
There are more surfers in the Gold Coast, a city of half a million, than any other city in the world, and surfing delivers $3 billion annually to the local economy. Yet sadly, the Gold Coast is a poorly managed coastline. Our beaches have lost several world-class waves to sand pumping projects, which have turned reefs into buried treasure and transformed a once-bountiful ocean playground into a desert. Handfuls of other waves are currently endangered from creek and river mouth dredging to beach erosion dramas, plus proposals for cruise ship terminals, which would literally bulldoze several renowned and iconic surf breaks. In addition, local citizens are generally uneducated or unwilling to deal with the rubbish and plastic debris on their beaches and in their water.
The lamentable stewardship of creation has nudged me to join local surfing environmental groups over the past four years. As a dad, pastor, president, chairman, and surfer, I have tried to advocate for the sport of surfing and creation care. But more centrally, I am striving to spread shalom for the flourishing of the entire Gold Coast.
In 2008, I helped resurrect a once-thriving local branch of the surfing environmental nonprofit called Surfrider Foundation, which had been dormant six years prior. As president of the local branch, I've motivated a small army of surfing activists in beach cleanups, sand-dune enhancement projects, city plastic reduction, beach care lectures, recycling events, peaceful rallies, and constant engagement with city and state government to make wise and informed decisions that benefit the waves, beaches, and surfing community. I've learned at Surfrider Foundation that surfers don't protect their local waves because they've been convinced that good stewardship is morally right. Rather, they protect their waves because if they were to lose them, they would lose a part of their souls. Peter Kreeft says it well in his book I Surf, Therefore I Am: "'To surf' is not just something that you do, but something that you are."
Striving for the shalom of the Gold Coast means tapping into the core identity of surfers, showing them that the activity they love is so intrinsically woven together with the environment and local economy that if they don't step into action, they will lose themselves and watch the city they love disappear. It means showing them that their surfing and coastal protection will benefit the Gold Coast by providing jobs, boosting the local economy, and building a healthy network of passionate community activists. It will also provide a lens for their fellow citizens to see that a people and their habitat are inseparable.
After three years with Surfrider Foundation, in 2011 the founder of National Surfing Reserves, a sister organization, approached me to establish surfing reserves on the Gold Coast. Thirteen months later, after hundreds of hours spent chairing a committee and partnering with major stakeholders in the surfing industry, city council, and state government, in February 2012 we witnessed three world-famous surf point-breaks recognized as official National Surfing Reserves. The achievement included a dedication ceremony that drew our state's governor and three surfing champions, $50,000 raised, a Gold Coast historical surfing book, and three plaques and signs marking the three world-famous surf point-breaks. But the crowning moment was when a 10-year-old grommet unveiled the plaque in our ceremony and said he hoped to die an old man, surfing the wave right behind him. Through those efforts, it is my prayer that we have laid a foundation for generations to love and enjoy the same waves we now enjoy.
2012 was also the year God blessed my wife and me with a beautiful daughter. Sage Marie arrived shortly after the dedication and in the midst of several Surfrider Foundation events. We want Sage to grow up in a home where discipleship includes loving Jesus and his church, sharing the gospel boldly, and loving God's creation while seeking to spread shalom over our city. To that effect, we never want her to remember a day when she did not love Jesus or wasn't actively involved in protecting her local beach.
Lord willing, I will get to enjoy the swell that is currently forming and building in the South Pacific, due to arrive here next week. This year and probably next, the Gold Coast will continue to welcome surfers to its world-renown beaches; however, if poor coastal stewardship continues, it may not be long before Gold Coast surfing is a chapter in the history books. As a pastor, I believe God desires both to save souls and to restore the whole of his creation to its original glorious purposes. The loss of waves is not the way it is supposed to be. N. T. Wright aptly says, "Jesus is coming, so plant a tree!"After my time joining a collective of people who believe that surfing benefits the common good, I would add to Wright's land-based statement with my own: "Jesus is coming, so save a wave!"
MORE FROM CHRISTIANITY TODAY