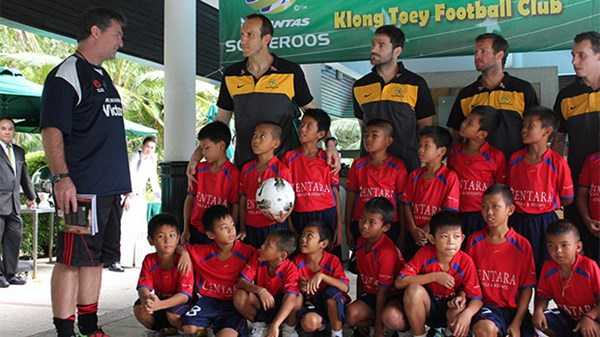 Soccer and Salvation in Thailand's Largest Slum
How Australia native Ash Barker is seeking stability in one incredibly instable Bangkok slum.
6.8.12
In 2008, the world's population silently made the momentous shift from a primarily rural world to a primarily urban world. More people now live in urban areas than in rural ones, and roughly one out of every six people not only lives in an urban area, but in an urban slum area.
What does it mean to bear witness to the gospel in an urban world such as ours, with such a large proportion of the people living in slum areas? This question is the focus of Ash Barker's life mission as well as his new book, Slum Life Rising: How to Enflesh Hope Within an Urban World. Barker, an Australia native and founder of Urban Neighbors of Hope, wrestles with these challenges not as an academic but as a practitioner who has been living for a decade in Klong Toey of Bangkok, the largest slum in Thailand.
Klong Toey is home to over 100,000 people crammed into a space of about two square kilometers. Open sewers, drugs, gangs, rampant disease, and unstable housing situations and jobs are but some of the maladies that hinder comprehensive flourishing in Klong Toey and other slums the world over.
Barker and his wife, Anji, lived and worked in urban Melbourne for almost 10 years before relocating to Klong Toey. Their experiences among the urban poor in Melbourne did not prepare them for the challenges they would face in their first six months in Klong Toey, which included floods, dysentery, and multiple bouts with Dengue fever, one of which almost took Barker's life.
Once his health stabilized, Barker first began helping to bless Klong Toey by partnering with a longstanding Church of Christ community center to start a football (soccer) program for youth in the slum. Having grown up playing football in Australia, Barker was an ideal coach for the youth, and the program has grown in size and profile over the past decade. Today the football club works with about 100 youth, and alumni have gone on to play for successful teams throughout the country, including the Thai national team.
Another early venture was launching a preschool through which 60 children from the slum were given the foundation of a basic education. "We want to be preventive," says Anji. "That's why we work with children [in hopes of initiating] structural change."
MORE FROM CHRISTIANITY TODAY