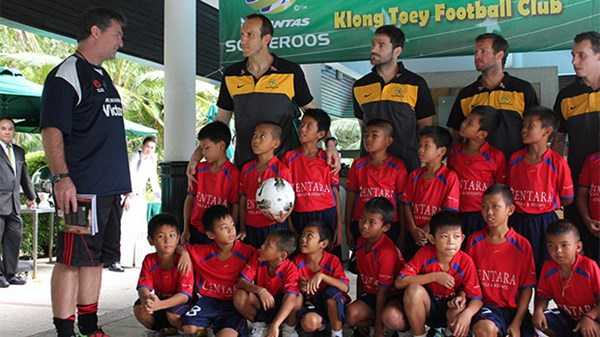 Soccer and Salvation in Thailand's Largest Slum
How Australia native Ash Barker is seeking stability in one incredibly instable Bangkok slum.
6.8.12
The Barkers have also been deeply involved in creating economic opportunities for the gifts and skills they found among their neighbors. One neighbor named Poo loved to cook, and the Barkers have worked with her to offer Thai cooking seminars to tourists, through which up to 200 students are now taught each month. They have also worked with Poo to publish a cookbook, Cooking with Poo, which has sold over 7,000 copies and has garnered media attention for its tongue-in-cheek title.
The Barkers have also started a handicraft business in which women of Klong Toey make jewelry and other crafts and are paid double the minimum wage for their work. This business now employs over 60 women and in 2011 exceeded $300,000 in sales. The profits have been rolled back into starting other businesses in Klong Toey, including coffee carts and Poo's cooking school.
A particular challenge to ministering in slums is their inherent lack of stability. In the West, we have our own instabilities, but they are largely conscious choices. "Stability in slums," notes Barker in Slum Life Rising, "can be undermined by many factors in inherent to slums, [which] can include infectious diseases that cause ill-health; turnover of residents seeking more secure housing; demolition or threat of demolition; regular fires and floods." Even the typical institutions that give order to healthy societies, such as schools, businesses, and medical and emergency services, he says, "are [in slums] often established outside of official channels and face a vulnerability that those in regular neighborhoods do not." Christians who choose to move to the slums and who are vulnerable to many of the forces that cause instability bear incarnational witness to the love and compassion of Jesus.
In Slum Life Rising, Barker tells the story of "Jim," a Klong Toey neighbor who was attacked by the mafia and had his arm broken so badly that he couldn't work. Through the friendship of some of Barker's co-workers, who moved with Jim and his family outside the mafia's threat zone, Jim encountered Jesus in a powerful way, and his arm was healed. Jim's family eventually moved back to their old neighborhood, and now host their own house church and provide care to large numbers of young children.
MORE FROM CHRISTIANITY TODAY