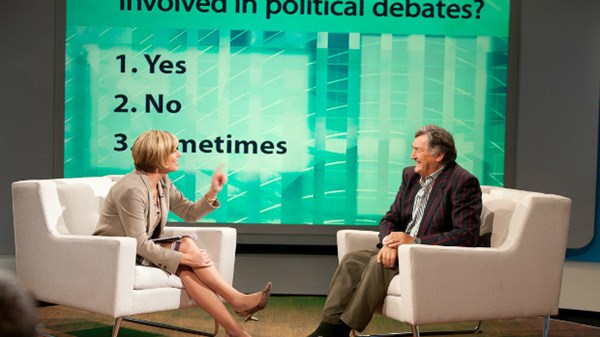 Image: Courtesy of Context with Lorna Dueck
'Let Me Impact the Media for You'
How Lorna Dueck is embodying a winsome apologetic on Canadian TV.
7.30.13
A Christian media ministry had planted itself where Toronto's heart beats. Context was born.
Chaplaincy
The charitable listening that happens onstage at Context with Lorna Dueck isn't only for show. It continues long after taping has ended. As part of what she calls their "chaplaincy to the media," Dueck hosts events in the Context offices to make their team—and mission—visible to the CBC community. Dueck's request to advertise this "chaplaincy" on the front doors of the Context offices was not eagerly welcomed at first. "The presence of a Christian media ministry in a public broadcasting center made stakeholders nervous," Dueck admits.
For the past three years, Dueck and her team have worked patiently to build trust with their CBC neighbors. Presence—or one might say incarnation—is an essential value for Dueck. Once a month, she hosts a monthly chapel service in the Context office open to all. Context calls the service Selah: "the spiritual pause that refreshes." Early this summer, the team advertised and hosted Alpha classes for anyone interested in Christianity. Spiritual seekers don't come in droves, but some do find their way.
"We have a ministry of availability," says Dueck. "Ideally, we want to have eyes and ears to minister to the spiritual needs of the people who work in this industry here in Toronto. We understand their schedules and their pressures, so we're instantly on familiar terrain."
Even if people don't attend the events, there are other reasons why CBC employees visit the Context offices. Over the past year, for example, CBC media executives have rented the boardroom more than a dozen times, trafficking in and out of a space that has been architecturally retrofitted with Christ's hospitality in mind. The walls are hung with Christian artists from Toronto's vibrant arts community, Imago. A Jean Vanier quote invites visitors into the meeting space.
MORE FROM CHRISTIANITY TODAY