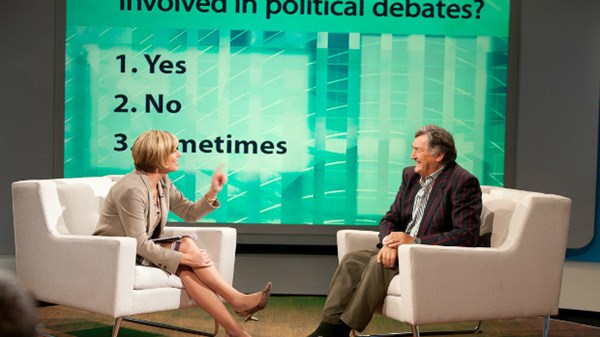 Image: Courtesy of Context with Lorna Dueck
'Let Me Impact the Media for You'
How Lorna Dueck is embodying a winsome apologetic on Canadian TV.
7.30.13
"I notice one big difference walking into the Context offices," says Richard Handler, producer of the CBC radio program Ideas. He self-describes as both a devout agnostic as well as a devoted fan of Dueck's work. "The glad tidings you sense there seem genuine. It's a pleasure to step into that little glass kingdom."
As a CBC insider, Handler understands the inevitable suspicions Lorna and her teams face as Christians in the media. He calls Context's presence in the CBC the equivalent of "sleeping with the enemy."
"CBC's mandate is relentlessly secular," Handler says. "At the CBC, Jesus is rarely mentioned, unless it's part of a story, or on a talk show, as a term conveying exasperation.
"But at Context, it's the real deal."
Credibility
Dueck has steadily built credibility through her network of relationships with CBC producers like Handler and CBC radio hosts like Anna-Liza Kozma. They now routinely share guests and source material. Dueck has also been invited as a guest on some of the CBC's top radio shows and has even served as a replacement for Kozma, hosting CBC's national radio show, Cross Country Check Up.
"One reason Christianity is a phenomenon is because of the power of eyewitnesses telling their stories throughout history. I'm here to continue that record." ~ Lorna Dueck
Dueck leverages her network of relationships for events like the invite-only luncheon she hosted at the Toronto Club this spring. She invited Toronto's biggest media giants to hear Mark Burnett and Roma Downey, producers of the Bible television miniseries, talk about the show as well as share their testimonies. Afterward, The Globe and Mail published a double-page spread on the miniseries. "We are thrilled that we helped the arts page understand and notice that broader story," says Dueck.
MORE FROM CHRISTIANITY TODAY