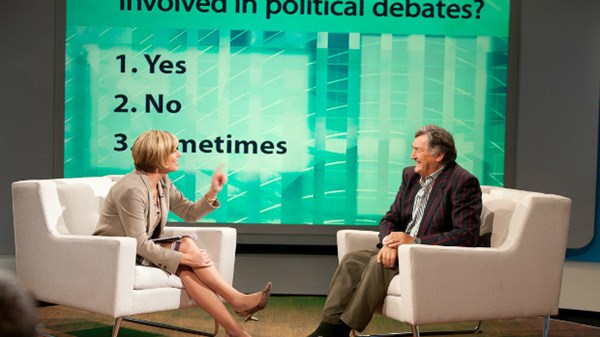 Image: Courtesy of Context with Lorna Dueck
'Let Me Impact the Media for You'
How Lorna Dueck is embodying a winsome apologetic on Canadian TV.
7.30.13
Dueck has long been a known commodity at The Globe and Mail. In 2001, after she had interviewed a Canadian politician for 100 Huntley Street, a Globe and Mail editor approached her about writing a monthly faith column. She later created the Globe's Faith Exchange panel, an online forum of interfaith dialogue.
Currently, Dueck is pursuing a master's in evangelism and leadership at Wheaton College. Although she might have easily pursued a graduate degree in journalism (she finished her undergraduate degree in religious studies years ago), she insists, "My call in life is to tell God's story."
"One reason Christianity is a phenomenon in the world today is because of the power of eyewitnesses telling their stories throughout history," Dueck says. "I'm here to continue that record."
MacMillan, consultant for Context and a longtime mentor to Dueck, calls her "a thoroughbred racehorse of broadcasting."
"She has courageously taken the way of the cross through media."
Jen Pollock Michel, a regular contributor to Her.meneutics, has written for This Is Our City about Toronto playwright Ins Choi. She has a book forthcoming on desire from InterVarsity Press.
MORE FROM CHRISTIANITY TODAY