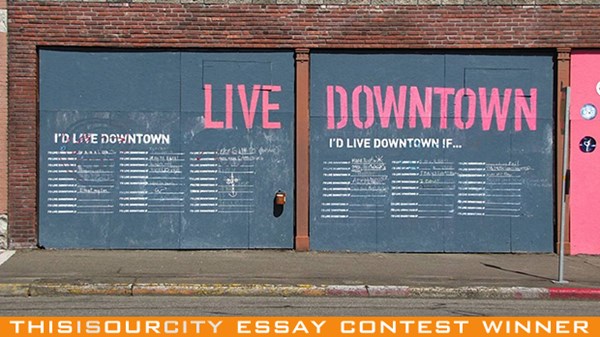 Image: Courtesy of Brandon Rhodes.
A Long Obedience in the Same Downtown
The local, highly ordinary gospel witness of Zoe Livable Church.
8.19.13
I'll never forget the first time Paul Sparks gave me a tour of Zoe Livable Church. He showed me community gardens, coffee shops, a bakery, a holistic health center, nonprofit offices, an intentional community, murals galore, and an expansive library. He told me about Zoe members organizing farmer's markets, block parties, and yarn-bombings. I was astonished by the hundreds of buildings, dozens of acres, and 6,000 residents within the purview of the church.
Most impressive about the scene is that Zoe's membership tallies about 25 in total.
The campus, of course, is not a church campus at all. Nor is any of it "theirs." It's downtown Tacoma, a brick-laden, three-quarter-square-mile quiltwork of splendid theaters, postwar offices, colorful antique stores, and drab parking lots, all steeply sloping some 300 feet toward Commencement Bay. Most of Zoe has sought to work, play, and live here for ten years. They made a decision to radically localize how they practice being church with the common good and the gospel in mind. They still practice most of what we expect a church to do—gathering for prayer, Scripture, the Eucharist, music, and the like. But they take a "nearby-first" approach to living it out. It's like their Prayer of Jabez, but in reverse.
'We're Here to Save the City!'
"When we first moved in, we went down the streets picking up trash, because we didn't know what else to do," says Holly Knoll, a graphic designer who has lived in Tacoma for nine years. "We thought we were changing the city one abandoned needle at a time. … Our vision was like, 'Hey, we're here to save the city!'"
In those days, Zoe's strong suit was musical festivals and Sunday morning innovations, and those assets carried through the transition from multi-county commuter to one-little-neighborhood community priorities. They opened a music venue called Club Zoe, and their Sunday gatherings weren't too different from many in the emerging church movement. "It was pretty silly," says Paul, Zoe's founding pastor. "But we didn't know any better." They moved in with already settled answers for the neighborhood's challenges, a sort of benevolent condescension that everyone I interviewed now reels over.
"I came into this with the attitude that I was going to change the city. It was the complete opposite," says barista Liz Sparks, Paul's wife. "Seeing the work that God does through social justice work . . . [and] I never had my fingers in it at all. Tacomans [are] doing more of the work than I was."
Settling into a particular place well, it turned out, calls for more than good intentions when the neighborhood already has them. Listening to their neighborhood, Knoll says, "We realized we have to start over." Less litter and a cool music venue wasn't what the neighborhood needed.
How might a church seek the common good of a neighborhood that's already seeking a similar future? And in what ways might that church's pursuit be faithful to the peculiarity of Christ? For Knoll, the Sparks, and other Zoe members, the answer began with a posture of active listening together. They wanted to join what God was already up to.
Following the Place-Prettying God
Many Tacoma artists had been finding quirky ways to beautify the city's more desolate patches. Beautification activism felt like a natural onramp for many in Zoe. "God loves to make beautiful what the world has left as rubble," says Paul. Recently, that's included some women who "yarnbomb" ad-hoc tapestries into chain-link fences. My favorites are the interactive chalk-paint murals encouraging people to finish the sentences, "I'd live in downtown if: _____" and, "I go downtown to: _____." Every time I visit Tacoma, I find new answers chalked in.
"It all sounds a little selfish," says Knoll, "because I want to be in a beautiful city, too."
I wonder where such bashfulness comes from. Perhaps many contemporary Christians quietly assume that ministry is real only if we don't get to enjoy the benefits—a needless guilt-trip peculiar to an age where we can get in our cars, drive to a "ministry location," and then watch it from the rearview mirror on our way home. Yet for most of church history, such instances of faith working itself out in love happened in one's neighborhood, not in someone else's. "Ministry" in one's neighborhood can break out of our conventional boxes and become an abundance shared by all.
Knoll and her friends' placemaking activities—activities meant to make a location more beautiful, walkable, just, storied, and conducive to human flourishing—are striking to me, coming from art-loving Portlandia. As I have seen more evangelical churches embrace the arts, I have rarely seen the renaissance get beyond church halls and coffee shops. In downtown Tacoma, Zoe's embrace of art is public and even civic, not hidden on a church stage.
Surprise alliances
Joining with others has been a key way of putting down roots in Tacoma. Justin Mayfield, a longtime part of Zoe, decided to serve on the neighborhood council. More recently he has organized events through a group called Local Life, including block parties, community development conferences, and neighborhood meet-ups.
Mayfield's reputation as a neighborhood organizer whose work is rooted in his faith has been both a liability and an asset. In 2012, marriage-equality activists caught wind of an off-hand comment Mayfield made on his personal blog that followed the church's historic discernment on homosexuality. They did what they could to discredit him, but his reputation as a do-gooder protected him.
"They totally had my back," Mayfield says. "They went on all those blogs and [rebuked the] character assassination." Even the owner of a popular gay bar jumped onto Facebook to ease their concerns and stand up for him. "It was amazing."
'Hi, Bakery Girl!'
Some of Zoe's earliest members have started businesses that complement the neighborhood's positive momentum toward socially conscious business. Nicole Connelly started Nurture Healing Center for alternative and holistic care, and Molly Ott opened Corina Bakery a few blocks north.
There's something different about their businesses, though. Mingling as I do in community development circles, I've been groomed to applaud a business only if it's doing something really out of the ordinary—such as "social enterprises" with triple-bottom lines. These are often lauded as the best way Christians can use the market to subvert the excesses of capitalism. While Ott's and Connelly's businesses share similar values, their deeper wisdom is found in simply being part of the neighborhood.
"It's socially fulfilling to be at Corina," says Liz. "I've been there four years, and I know so many of my customers. I run into them all around town." In our wanderlusting world, Liz says, this voluntary serendipity becomes part of her contribution in Tacoma. "I'm somewhat of a stable person to them. When they come in, I'm the coffee girl. When they see me [elsewhere downtown], it's, 'You're the bakery girl! Hi, bakery girl!' I'm pretty proud of what that brings to our place."
Slowly, she says, an anchoring relationship creates safety. "People are trusting each other more. I had to trust that I'm not a stranger; this place isn't scary."
A culture groomed to see the glamorous may dismiss Liz's resolve to be a local as quaintly incidental to the common good of downtown Tacoma. You can't measure it, after all. For her, though, verbally honoring the goodness of those everyday connections is part of the point. "It's a connecting space, realizing and celebrating when [neighbors] know each other. Introducing people to local businesspeople," she says. "And the networks and the connections just started flowing like crazy. Well now it's so much more. There is a social fabric, there is a social care that's constantly present, and I'm a part of that."
Liz and Knoll have a point. Walking around downtown Tacoma with folks from Zoe is surreal. You can't walk three blocks, finish your coffee, or order a second pint without someone recognizing them and saying hello. Over 6,000 people live in downtown Tacoma, and I'm hanging out with what feels like the 20 of the ones who are most connected.
"Maybe if I'm helping one person in the community, it feels like nothing," Knoll says. "But when I'm connected to four other people who know that person too, then together it creates a circle of care." A shared neighborhood creates a kind of everyday feedback loop of compassion and accountability that ministry technique can authentically engineer—and that can't be written in a how-to book, at least not very well.
A Sublime Witness
None of these stories are mindboggling: an artist, a barista, and a nonprofit leader. But together, as Knoll said, I begin to see a deep web of care slowly being woven throughout downtown. It's a web of care and mutuality that no one person in Zoe could have nurtured alone. Nor could Zoe as a commuter church have done this. It took a neighborhood, a decade, and an eager-to-listen imagination for what discipleship might look like in their context.
Every time I visit Tacoma, I am haunted by how gossamer the beauty of this feels, how mundane it might be to read of it. Most of it looks so simple and everyday it risks understatement: a band of friends living with their neighborhood's peace and the gospel in mind. Zoe's story lacks edgy missions jargon like liminal or modalic. And some of their best ideas weren't theirs. Zoe members are slow to take any credit, and are quick to express thanks for all of downtown's activities, friendships, and businesses.
There isn't a clear-cut triumphal story, either. Zoe has sought the common good of their neighborhood, and they've certainly been part of changing it for the better. But in conversation after conversation, it seems like their story is one of the neighborhood changing them. Humility, patience, and gratitude were how all my interviewees described what this decade has been sowing in them.
Perhaps I am relishing in a sort of anti-climax in telling Zoe's story. There's gotta be some sort of packagable and marketable, "Go and do likewise in your neighborhood." But there isn't: this is the quiet genius of their experiment in this new parish vision. They have sought their neighborhood's flourishing as natural outworkings of their everyday lives. Seeking Jesus Christ in the day-to-day through active listening in a shared place sounds burlap and boring.
Yet this commonplace faithfulness is being found beautiful all over: Zoe betokens a wider groundswell of Christians rediscovering the glorious mundane of neighborhood life. Some call it slow church or the new parish, and groups like the Parish Collective and their Inhabit Conference are the primary conveners of the conversation around it. Their gatherings feel like a family reunion of scattershot church localists thrilled to not be alone on the journey back to the parish. "I don't know where we'd be without having friends in other parishes," says Paul. "You have to be rooted and linked."
Paul thinks that stories from the new parish feel burlap because that's the scale at which the kingdom of God emerges, and what our ministry expectations have blinded us from seeing. "Our world has glamorized the structures of power that separate people – [big buildings] and just all the different things that we build and glamorize," he says. "Liz is an expert placemaker around those small cosmetic environment shifts. It's not really one that you write news stories on, but it ends up at the end of the day doing more to build the relational fabric of a neighborhood than most forms of architecture that society built."
Riding the train back home from Tacoma, I think Paul is on to something. Jesus told us that if you want to see where God's life and rule are showing up, you have to look at the mustard seed. In a world of scattered ministry sites, national church-planting efforts, and globally-broadcast sermons, it's easy to think that that's where we should look to for vision.
But maybe Zoe's ragtag band of two dozen people deciding simply to live locally with humility in the same neighborhood might be a likelier, if slower, candidate. The thing about the mustard seed is, as Jesus taught, it will steadily contribute to the common good of the entire garden.
And that gives me hope.
Brandon Rhodes (D.Min, George Fox) is a freelance writer and lay scholar embedded with his wife, Candice, in Springwater, a neighborhood church in Lents, Oregon. He serves as Grassroots Storyteller & Field Guide for the Parish Collective. Brandon is currently completing a book manuscript on the past, present, and future effects of cars on American Christianity. He has written for This Is Our City about Springwater and Portland's Rosewood neighborhood.
MORE FROM CHRISTIANITY TODAY