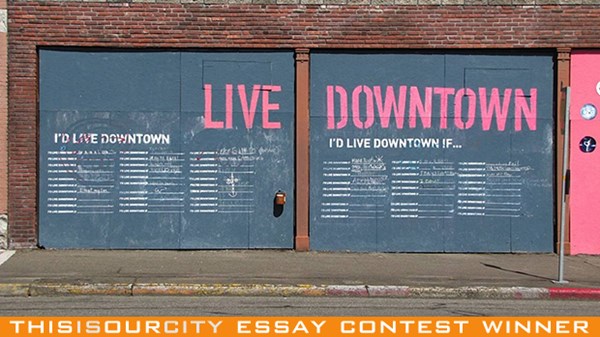 Image: Courtesy of Brandon Rhodes.
A Long Obedience in the Same Downtown
The local, highly ordinary gospel witness of Zoe Livable Church.
8.19.13
I wonder where such bashfulness comes from. Perhaps many contemporary Christians quietly assume that ministry is real only if we don't get to enjoy the benefits—a needless guilt-trip peculiar to an age where we can get in our cars, drive to a "ministry location," and then watch it from the rearview mirror on our way home. Yet for most of church history, such instances of faith working itself out in love happened in one's neighborhood, not in someone else's. "Ministry" in one's neighborhood can break out of our conventional boxes and become an abundance shared by all.
Knoll and her friends' placemaking activities—activities meant to make a location more beautiful, walkable, just, storied, and conducive to human flourishing—are striking to me, coming from art-loving Portlandia. As I have seen more evangelical churches embrace the arts, I have rarely seen the renaissance get beyond church halls and coffee shops. In downtown Tacoma, Zoe's embrace of art is public and even civic, not hidden on a church stage.
Surprise alliances
Joining with others has been a key way of putting down roots in Tacoma. Justin Mayfield, a longtime part of Zoe, decided to serve on the neighborhood council. More recently he has organized events through a group called Local Life, including block parties, community development conferences, and neighborhood meet-ups.
Mayfield's reputation as a neighborhood organizer whose work is rooted in his faith has been both a liability and an asset. In 2012, marriage-equality activists caught wind of an off-hand comment Mayfield made on his personal blog that followed the church's historic discernment on homosexuality. They did what they could to discredit him, but his reputation as a do-gooder protected him.
"They totally had my back," Mayfield says. "They went on all those blogs and [rebuked the] character assassination." Even the owner of a popular gay bar jumped onto Facebook to ease their concerns and stand up for him. "It was amazing."
MORE FROM CHRISTIANITY TODAY