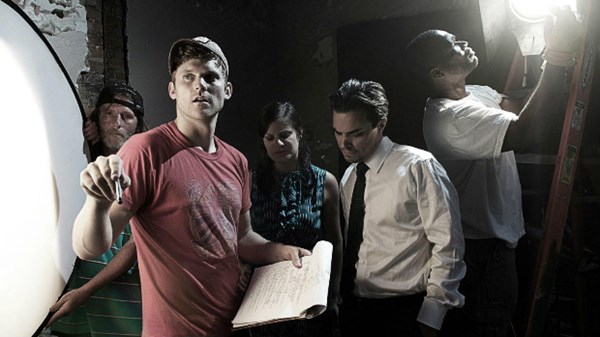 Image: Courtesy of Neighborhood Film Company
Making Films With, Not About, the Homeless
Neighborhood Film Company includes adults in recovery in the production process.
6.24.13
Ricky Staub and Anders Lindwall's move to Philadelphia was a step of faith. Staub had worked for several years with a film producer in Hollywood, and Lindwall had been directing freelance video projects. Despite the opportunities they had found early in their careers, they nonetheless moved to the City of Brotherly Love in 2011 with "unsettled hearts."
When they arrived, they initially stayed at Project H.O.M.E., a nonprofit serving the homeless population of the city of 1.5 million. There, they formed deep friendships with a handful of adults recovering from addiction and incarceration.
For young filmmakers concerned with an issue like homelessness, making a documentary to raise awareness would seem a natural place to start. But for Staub and Lindwall, homelessness had become more than an issue, but rather a tangible, pervasive force in the lives of their friends, and they wanted to be part of actually stopping it.
With encouragement from Sister Mary Scullion, an advocate for Philadelphia's homeless population (who was once named to Time's 100 list), Staub and Lindwall co-founded the Neighborhood Film Company (NFCo.), a commercial production company that trains and employs adults in recovery.
Among those early friends was Elliott Harmon, who had spent much of his adult life behind bars. "I was a product of my environment," says Harmon, 41. It was therefore all too predictable when he first ended up in jail, then later became another recidivism statistic. After being released from prison and placed on parole in 2008, Harmon began to get his life back on track with help from social service organizations. "I liked the direction my life was headed," he says. "But I was bored. I knew that if something didn't happen fast, I'd go back to doing what I knew how to do."
Then Harmon met Staub and Lindwall, who offered him training as well as the opportunity to work with them at NFCo.—on the condition that he keep his head above water. "I wondered how anyone could invite me to be part of something good like this," Harmon says. "I never trusted people before, but with these guys, there was nothing fake. It was all real love."
MORE FROM CHRISTIANITY TODAY