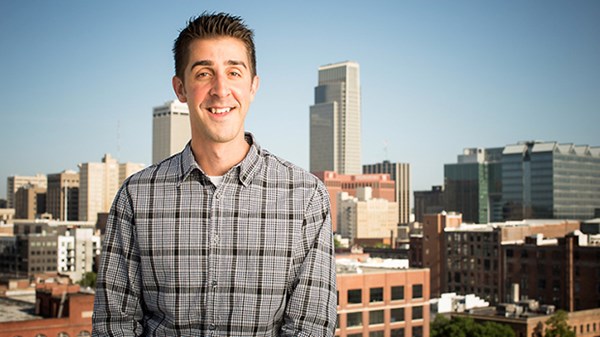 Image: Courtesy of Malone and Co.
Making Omaha (Yes, That One) a Tech Startup Hub
Jeff Slobotski believes his hometown could be known for more than cornfields.
7.17.13
Slobotski regularly consults with startups to help clarify their view of what success means. "It's not horrible if you don't build the next billion dollar company but have a great place to work," he says.
In 2010, Slobotski quit his day job to go full time with SPN. Up until then, he had been coaching startups while holding a day job, supporting his wife and three sons. He felt the time had come to practice what he had been preaching, and while he could not predict the future, he had an abiding sense that God was telling him to go for it.
One Scripture passage, from the words of Jeremiah to the Jews exiled in Babylon, particularly struck Slobotski. Grappling with how to express Hebrew faith in a land with competing ideals and foreign customs, Jeremiah prophesies these words:
"But seek the welfare of the city where I have sent you into exile, and pray to the Lord on its behalf, for in its welfare you will find your welfare." (29:7).
In other words, God refuses to let his people partition out their spiritual lives from the lives of their neighbors; either everybody wins, or no one does. "The thing that drives me is, how do you create authentic community? God will work beyond what we can comprehend," Slobotski says.
Leaving a Legacy
SPN is headquartered in the Mastercraft building in North Omaha. Three city blocks long, the building was originally a furniture factory. It has been completely repurposed as a deco-themed collaborative workspace that hosts almost 40 creative companies, attorneys' offices, architectural design firms, and more. The Mastercraft is designed to help foster the serendipity that comes from bumping into just the person you needed to talk with at just the right time.
One of Slobotski's closest allies is Dusty Reynolds, director of entrepreneurship and innovation at the Greater Omaha Chamber of Commerce, who sublets an office at SPN. Reynolds moved to Mali in 2009 to launch a company that supplied sustainable employment for locals. When the Somali government disintegrated in 2012, Reynolds had to close the doors. When he came back to Omaha, the entrepreneurship position just made sense.
MORE FROM CHRISTIANITY TODAY