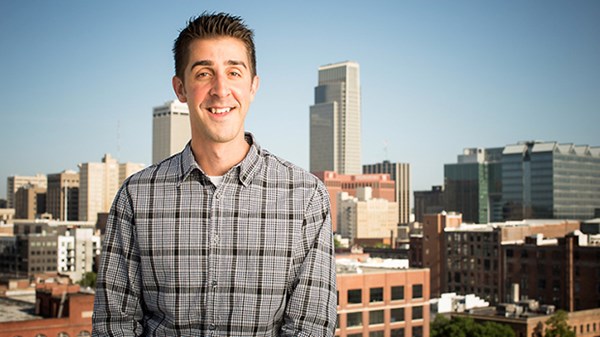 Image: Courtesy of Malone and Co.
Making Omaha (Yes, That One) a Tech Startup Hub
Jeff Slobotski believes his hometown could be known for more than cornfields.
7.17.13
Now, Reynolds has one simple goal: leaving Omaha better at the end of the day than when he woke up. He explains his metric for success: "The most vibrant cities are the ones where you don't have to say the name of the state with it. The reason people have to say Nebraska [with Omaha] is others won't know where it is. When you're a vibrant city, you naturally become confident with that."
For Reynolds, no two workdays are alike. If he's not grabbing coffee with the head of a local startup, he's meeting with Gallup to discuss building a tool that will help identify entrepreneurs at an earlier age. When he's not over at SPN, you might find him planning the next installment of a speaker series called Failing Forward, meant to ameliorate the stifling fear that dogs even the pluckiest entrepreneurs.
"You have to have a chief who has the pulse of the people," says Reynolds. "Someone who says, I want to bring them together. The person that has led that effort has been Jeff."
"Are you going to be the next world-class skier in Omaha? Most likely not. But can you create the next great technology or design firm in Omaha? I want the answer to be a resounding yes." ~ Jeff Slobotski
One reason Slobotski is effective as a leader of startups is that he is asking the right questions: "How do we build legacy over currency? How do we make our cities better in ways that live beyond us?" Jeff and his wife just had their fourth child, so legacy has been on his mind more than usual lately. His dreams for the city are tied to his children, and he knows what version of Omaha he wants them to have when they come of age, one where geographic constraints are nonexistent:
MORE FROM CHRISTIANITY TODAY