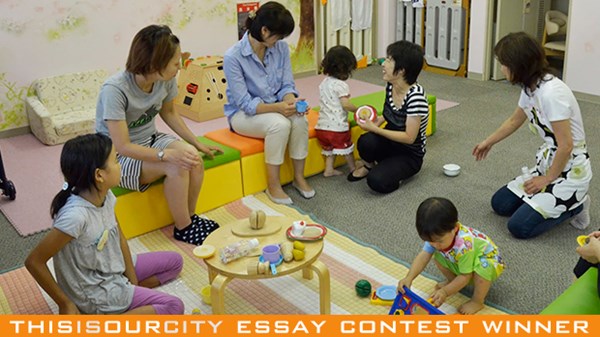 Image: Courtesy of Kathy Oyama
Meeting Our Tokyo Neighbors with Open Doors
In a culture suspicious of institutional faith, our church has found quiet ways to serve.
7.22.13
It was Sunday morning, and our church was preparing for a busy day ahead. At the park across the street, preparations for the Neighborhood Fall Festival were under way. Scores of people dressed in hapi coats were getting ready to carry the mikoshi (portable shrine) around our community and invite neighbors to a party in the evening.
Suddenly, a downpour unleashed. The leader of the community association called us, fellow board members, asking for help: Could residents take shelter in our lobby? We opened the doors and the crowd flooded in, dragging in dirt and mud. Upstairs the morning worship service continued, most people unaware of the group gathered several floors below them. By the time the last song was sung, the rain had stopped and the lobby held only the belongings some had left behind for safekeeping. Another evening downpour brought the final bash from the park back to the lobby. This was not what we had planned, but it seems it was part of God's plan.
The next day, our church staff sat waiting in the play center that we had opened a few months prior to serve young families in our community. Our residential neighborhood in Nerima-ku, Tokyo, is unique. We are one of only two regions in the city with a growing number of small children in a country whose population is aging and declining. This reality, and the vision of a recently retired church member who worked for decades in public childcare, led our church to open the center.
We were waiting for representatives from our local municipal government to arrive. In their hands rested the decision to grant or deny us accreditation and funding for the center. We had followed their instruction rigorously, and an inspection team had given us an initial positive response after visiting our site. But a sense of foreboding haunted us that day. Why were several officials coming to talk to us personally?
Meanwhile, the community association leaders had come over to thank us for opening our space the day before. Then they learned that several municipal officials were expected, probably to deliver bad news. So they joined us in waiting.
Without specific reasons, the officials did indeed deny our application. However, they were quite surprised to see their friends, two leaders from the neighborhood association, sitting with us. They were unprepared to have witnesses to an unjust decision. And all of us were shocked to hear those community leaders stake their own reputations on supporting what our church was doing for the community. Together, the two of them underscored the true reason for the decision—political pressure from locally elected representatives from a religiously associated party. We were amazed to hear them come out so strongly in our defense.
Ultimately, the municipal officials followed the party line, but the goodwill displayed toward us that day was priceless.
Quiet Humility
Eight months have passed since the day our application was rejected. Recently we celebrated the first anniversary of our center's opening. Since moving from Huntington Beach, CA, to Tokyo almost nine years ago, we have wanted to serve our community, to provide people with a place to experience grace and belonging in concrete and practical ways. But from the outset, we had no personnel or funding to do anything that would achieve either.
So our first small step was to open our restrooms to neighbors using the park where we had hosted the fall festival. Soon, we had a constant stream of mothers with small children making their way to our building. At virtually no cost, we were able to serve people in a way equivalent to providing a cup of cold water (Matt. 10:42; Mark 9:41). We soon realized that moms would benefit from a place to change their children's diapers, so we set up an area for that, using equipment we had on hand. Near the entry to the restrooms, we started posting information about church-sponsored classes and events that might meet their needs. All of these actions were passive and nonthreatening and allowed us to build trust—important in a culture historically deeply suspicious of formal Christianity. We were not preaching or ministering directly to anyone with words or a message. We were trying to serve from a position of quiet humility.
Eventually, we allowed local parents and their children to use an open play area originally set up for church members on Sundays. Soon, we had mothers and children borrowing the space regularly and keeping it more orderly than before we had opened it. So when our newly retired member began to tell us about her vision for a new ministry two years ago, we felt confident that this was God's plan for the space on the first floor that we had prayed about for years. Our journey in learning to serve step by step had prepared us to take the next jump forward.
We intend to make it easier for governmental officials to work with us, so that we can build bridges instead of walls.
We had planned to start our center in accordance with municipal regulations, so that we could receive a government grant. Being denied helped us reevaluate our goals and motives. Using resources from our church members resulted in a stronger sense of connectedness in the church. Those not directly involved prayed regularly for the outreach with a unique level of concern. Those from the community whom the facility serves are intrigued by the fact that the church sponsors the center, but with no hidden agenda of seeking to convert them. A year's experience has shown us that we need to be recognized as an accredited center, so that we can provide better services to the neighbors God has entrusted to us.
And recently we have received good news. We just learned that the City of Tokyo has accepted our application seeking formal status as a nonprofit organization (NPO), which in Japan is entirely different from a registered religious organization. We will become an NPO in a matter of months. By taking this step, we intend to make it easier for governmental officials to work with us, so that we can build bridges instead of walls. And we will submit a new application to the municipal government in just a few weeks.
Through the experience, we have learned to work humbly with the people in authority around us, instead of confronting them or accusing them of mistreatment. We have chosen to work with the system the way it is, rather than attempt to demand the rights that the constitution of Japan grants us. We want to be peacemakers in a land that holds peace in highest esteem. In so doing, we hope to introduce as many as we can, both in our local community and our municipal government, to the Prince of Peace.
Kathy Oyama is co-pastor with her husband, Seiji, of Biblical Church of Tokyo in Nerima-ku, Tokyo, Japan. Together they train pastors and church leaders throughout the country. Before moving to Tokyo, the couple worked closely with Saddleback Church, making their training accessible to Japanese-speaking pastors and church leaders.
MORE FROM CHRISTIANITY TODAY