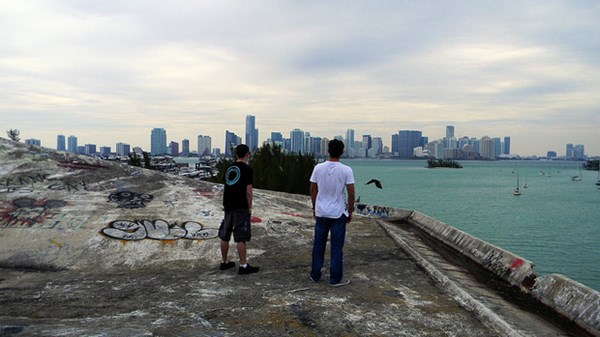 Image: Brett Levin Photography / Flickr.com
A Middleman for Change in Miami
Meet the go-to couple in South Florida for social justice work.
8.15.13
Dodd started mentoring Esperanza Martinez from Ekklesia Miami in 2002 after they met at an FCFC workshop. Martinez, a new believer and energetic director of an immigrant advocacy group, shadowed Dodd on her visits to donors, partners, and neighborhood projects. Then, in 2004, FCFC secured a major grant to underwrite summer youth camps. It subcontracted with Ekklesia Miami to run one in its community—with Martinez at the helm. It was the church's first foray into community services. Yet within one year, Ekklesia Miami launched its Family Life Center, a nonprofit that provides mentoring, arts, and ESL—all funded by grants Martinez can now write proficiently.
A Well-Woven Tapestry
The Sawyers, who are white, have befriended neighborhood leaders of color. The 2004 summer camps that Ekklesia Miami helped to lead included seven other sites supported by Haitian, African American, and Hispanic churches, reaching some 800 kids. The partnerships have been able to last for at least three key reasons, say the Sawyers.
The first: generosity. "The content in those early workshops was excellent, and we were offering it for free," Dodd says. The Sawyers invested their own money into FCFC and poured their time into the frontlines leaders. "I was holding the hands of people who were beat up in ministry . . . I was pastoring [them]," says Sawyer.
The second is genuine respect. Jose Rodriguez of Esmirna International Christian Ministries remembers meeting the Sawyers in 2003. "When you find somebody who is honest and willing to cross race or class barriers [and] they don't discriminate based on anything, that creates trust," Rodriguez says. "My relationship with Rick and Yvonne is a friendship, not just a business relationship."
Third, FCFC has studiously avoided theological and political partisanship. "We are faith-based but not denominationally affiliated," Dodd says. "And there is no 'right-wing' or 'left-wing' allowed in our work."
MORE FROM CHRISTIANITY TODAY