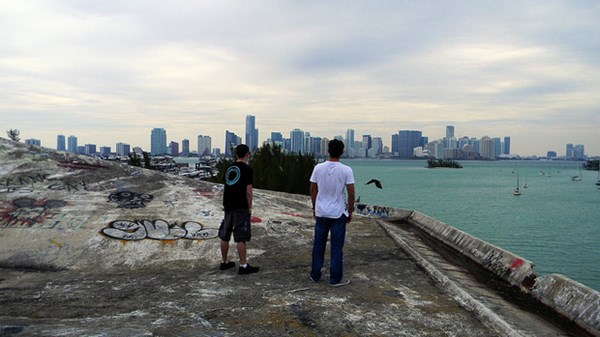 Image: Brett Levin Photography / Flickr.com
A Middleman for Change in Miami
Meet the go-to couple in South Florida for social justice work.
8.15.13
"If somebody is trying to weave shalom into our community, we want that effort to win," says Sawyer.
That commitment led the Sawyers and their partners to rename FCFC in 2012 to Hope for Miami. They say it better reflects their vision of shalom: "a webbing together of God and man with all creation to create universal flourishing and wholeness." A city experiencing shalom, they say, is like a well-woven tapestry. Everyone in Miami-Dade County has "threads" to contribute to this tapestry. And if all, especially those with power, influence, and money, use their threads to more tightly weave the fabric where poverty has weakened it, then Miami-Dade could be stronger and more beautiful.
In 2012, Hope for Miami served about 2,000 people in various Haitian, Hispanic, and African American neighborhoods in Miami-Dade. In a typical year the Sawyers work with 10 to 12 community- and faith-based groups. They apply for new grants and then share the wealth with established and new partners. Recently Dodd won a grant for a teen pregnancy prevention initiative involving 12 new partner churches.
'Steady and Wise Leadership'
Hope for Miami's effectiveness rests on its earning the trust of both grantmakers and frontline ministry leaders. Miguel Milanes of Allegany Franciscan Ministries (AFMFL), a group that has made grants totaling over $6 million to Miami-Dade community programs, trusts the Sawyers because of their "steady and wise leadership."
Hope for Miami's largest grantor is The Children's Trust, a tax revenue–supported funder of services for children and families in Miami-Dade. President/CEO Modesto Abety-Gutierrez (now retired) says Hope for Miami is one of the Trust's largest grantees, with current support at over $1 million. He says the Sawyers are unique partners because they enable the Trust to work with faith-based "grassroots organizations that are embedded in the community and that are coming at [development] from a perspective that's rooted in the church."
MORE FROM CHRISTIANITY TODAY