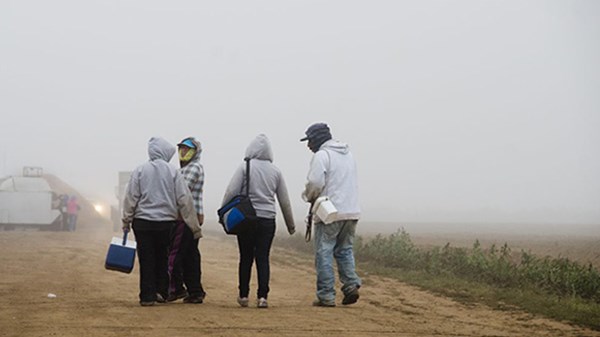 Ministering on the Margins in Rural America
Tierra Nueva ministry reaches drug addicts, migrant workers, and other downtrodden people living in Washington State.
2.28.13
Each year, snow geese fly 3,000 miles from the tip of Siberia, across Alaska, down the coast of Canada to their wintering home in the rich agricultural hub of Skagit Valley, Washington. The geese fly back to the arctic tundra by the end of March. Meanwhile, a much quieter migration is taking place in the valley.
After spending their winter in California, thousands of workers head north for the spring and summer. Breathtaking fields of tulips, daffodils, berries, and produce, support a $300 million industry that requires four to five months of seasonal labor.
A spokesperson from one of the valley's largest agro-businesses (that requested anonymity) says, "Without seasonal workers, we have no labor force." The majority of workers are Triqui or Mixteco Indians from Oaxaca, the poorest state in Mexico. Most don't speak English, and many speak only minimal Spanish.
Marcelino, his wife, and seven children have made the yearly trek between California and Skagit Valley since 2000. Originally from Oaxaca, Marcelino came to the States in 1992, and brought his family later. "People long ago came from the North and told us that in the North you make more money," says Marcelino. "But it is not easy here."
In Skagit Valley, one 12-by-20-foot room houses 10 people: Marcelino, his wife, six kids, and two grandkids. The room has three sets of bunk-beds, a small sink, a refrigerator, and a stove, but the bathroom is 100 yards away, past rows of homes in a company-run migrant camp where other employees live.
Marcelino, his wife, and two of his daughters, ages 18 and 22, work seven days a week. "The work that we do is hard," says Marcelino. "You get home really hurt. [Our] knees hurt, back hurts, hip hurts, feet hurt."
Marcelino's grandchildren are picked up at 5:30 every morning to spend 12 hours at the company-run daycare. Children who are too old for daycare are lured by gangs and drugs, especially during the summers with no school or supervision.
But an unusual ministry in the valley has become a safe place for migrants and other vulnerable groups. Tierra Nueva (Spanish for "New Earth") aims "to share the Good News of God's liberation in Jesus Christ with migrant farmworkers, jail inmates, Skagit Valley gang members, and those struggling with addiction." To Marcelino and other migrants, Tierra Nueva offers permanent mailing addresses, necessary because of their transient life. Twenty staff members and a network of volunteers are drawn from throughout the United States and Canada to support a ministry that integrates worship, witness, social service, and justice, and reliance on the Spirit for everything. They live throughout the Skagit Valley and come from a range of church backgrounds.
Founded in 1994, Tierra Nueva is housed in an old bank on the main street of the 8,500-person town of Burlington. Where banking transactions once took place, now migrant workers, addicts, former inmates, and local residents come to pray and worship. Bank offices have become TN's Family Support Center, distributing diapers and clothes and providing legal and immigration assistance to over 1,800 people each year. Other offices now house ex-gang members, single dads with their children, and interns. The bank vault has become a free clothing bank for people of all ages. The upstairs hosts a library and a kitchen, so people can be fed physically, intellectually, and spiritually. And most recently, TN established New Earth Works, a small organic vegetable CSA, artisan coffee roasting, and bread baking business.
Holistic Healing
Bob and Gracie Ekblad, founders of Tierra Nueva, grew up in the same Presbyterian church in Bellevue, Washington, and were raised in the affluent Seattle community of Mercer Island. With multiple master's degrees, ordination in the Presbyterian Church (USA), and a ThD in Old Testament, the couple seemed unlikely candidates to befriend tattoo-covered gang members and struggling drug addicts, or to teach peasant farmers how to do sustainable agriculture.
That is, until Bob traveled to Guatemala after graduating from Seattle Pacific University for what he thought would be short-term service. Shaken by the suffering of peasants, he phoned Gracie and asked her to marry him and join him in Central America, where they lived for seven years. The Tierra Nueva they founded in 1982 in the Honduras hills was the inspiration and training ground for its sister group in Skagit Valley.
The social challenges in rural America are as complex as those found in cities. Tierra Nueva has established multifaceted ministries in jails and prisons, among gangs and people struggling with addiction. Through rich experiences studying the Bible with those who feel condemned, Bob wrote Reading the Bible with the Damned and established the People's Seminary in Burlington. The seminary offers theological training to "people on the margins," through mentoring, training in Bible studies, worship leadership, pastoral care and advocacy. It also educates congregations, pastors, theology students, and ministry workers to sensitize and train people on issues and skills related to the margins.
Those who are marginalized need tangible signs of God's love, and Tierra Nueva staff have learned to rely on the ministry of the Holy Spirit. They pray not only for community and personal finances (all staff raise their own support), but also for the power of God to be poured out in all aspects of people's lives. Healings, deliverance, and dynamic expressions of God's transforming power are regular aspects of their common life.
Marcelino could barely walk, far less work, after he injured his knee picking strawberries. Bob Ekblad came to Marcelino to pray for healing. "We prayed for his knee, and it was healed," says Bob simply.
The Ekblads, Salvio Hernandez and Bethany Dearborn (who direct the Family Support Center), and a growing number of apprentices meet every Monday evening to listen for God to guide them to specific people, places, and physical conditions. After reaching consensus on what they've discerned, they set out to the locations, watching for people who match the clues they believe they've been given. "We go without material resources, as guests rather than as hosts," says Bob. "We look for the people who will welcome us and extend hospitality."
At one Monday meeting, Gracie received images of the laundromat beside the Mexican grocer and the words "soft like a marshmallow." She and an apprentice, Paul, headed toward the laundromat, but sensed they should enter the Mexican grocery store as they passed by. Paul noticed bags of heart-shaped marshmallows by the cashier, where a Mexican woman was making a purchase. They accompanied her outside into the cold December wind. After introducing themselves, they asked if she needed prayer.
"Yes, but doesn't everyone?" said Lucy in Spanish. Gracie agreed, then told her, "I think God is highlighting you." At this Lucy said that in fact she had pain and swelling in her leg from deep-veined thrombosis. The cold wind motivated them to duck into the empty laundromat, and they prayed.
Lucy cried as she said she had been longing for someone to tell her about Jesus and the Bible. Gracie and Paul invited her to their Sunday service. At that point, she beckoned them to her car and offered them bags of oatmeal and granola, earned from the factory where she works. She and her daughter now regularly attend Tierra Nueva's worship service, and she tells everyone how God healed both her leg and her heart.
The Skagit Valley jails have become centers for physical healing as well. The nine weekly Bible studies led by Tierra Nueva staff for men, women, and juveniles are carefully monitored, so the only "laying on of hands" allowed is by inmates to each other. But before the eyes of guards watching on surveillance cameras, each week toughened inmates experience physical healing.
With a shaven head that displays his tattoos, Zach is a giant of a man and bit intimidating. However, as Chris Hoke, the TN gang pastor and a chaplain, says, "He has the gentle heart of a child." Zach has gone from cooking methamphetamines, 17 years of addiction to intravenous drugs and multiple times in jail and prison, to being the head coffee roaster in TN's Underground Coffee Project, which roasts and sells premier coffee grown in Tierra Nueva Honduras.
The turning point came the day Zach squeezed his body into the plastic chair in the Skagit County jail's multipurpose room. With nothing better to do, sitting in on a Bible study was better than sitting in his cell. Zach was captured by Bob's way of weaving Scripture into the daily realities of men who feel like rejects.
When Bob saw Zach's huge, swollen hands bearing years of heroin use, Bob told him he thought God wanted to heal his hands. As his hands were healed, Zach's heart was captured by Christ. As soon as he was out of jail he knocked on the door of Tierra Nueva, wanting help and wanting to help.
During the five years since he became a premium coffee roaster, Zach has developed a ministry among other men in the "underground"—people with criminal records and addicted bodies. Zach shows up at work every so often with a new tattoo. But now they are of crosses, "Jesus freak" or "Jesus is Lord."
Partners with God
Amy Muia, another TN jail chaplain, grew tired of seeing the same women incarcerated due to drug addictions. "People really wanted to change," says Amy. "They hated what they were doing, but their environments were so poor." After intensive training in addiction recovery through the Genesis Process, Amy and her husband, Alan, opened Faith House, another ministry of Tierra Nueva.
Sabrina arrived at Faith House weighing 87 pounds, sleeping two hours at night, and barely clean from being "addicted to everything," she says. From ages 3 to 11 Sabrina was repeatedly molested and raped by a family member, until at age 11 she was forced into prostitution. When she was 13 she was kicked out of her home and worked two to three jobs to support herself. Married at 17, her husband became abusive, and she wound up in the hospital multiple times with hemorrhages and broken ribs. The marriage ended when her husband tried to hang himself in front of their kids. Finally, Sabrina chose to flee another abusive relationship, leaving her car, her money, and her addictions.
After a few months of limbo, Sabrina heard about Faith House. It took her six months to be able to sleep through the night, and now she can eat three meals a day. "I'm growing up all over again," says Sabrina. "I never had support like this from my family."
Sabrina's dream is to do art therapy with children and women who have been abused. She recently earned her GED and is enrolled at a local community college. Now the house assistant at Faith House, Sabrina is also the lead baker for New Earth Bread, the social enterprise of Faith House.
"We're a program of healing," says Amy. "We're in a partnership with God. And God does beautiful work."
In God's "new earth," those now viewed as outsiders will be in the center. Through Tierra Nueva, migrants, inmates, addicts, and other outcasts are being welcomed home. And from this small rural ministry, teams are sent out to partner with others in Europe, Asia, and Africa in the work of prayer, justice and healing.
A new migration is happening in the Skagit Valley—the migration of bearers of God's healing love to the streets, fields, and jail cells of rural America.
Kerry and Tim Dearborn live in Seattle, where Kerry teaches theology at Seattle Pacific University and Tim formerly served as director of faith and development programs for World Vision International. Additional photos provided by Andrea Peer, a photojournalist and writer with World Vision U.S.
MORE FROM CHRISTIANITY TODAY