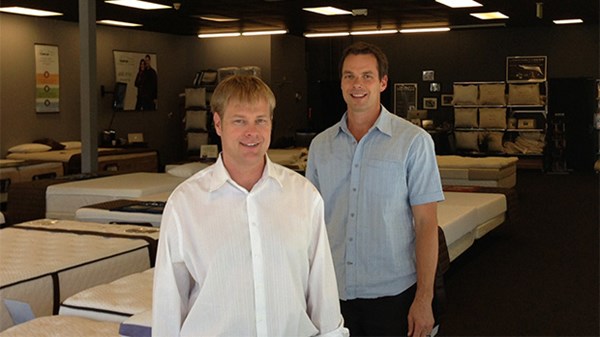 The Moral Mattress Kings of Denver
Two former campus ministers bring rest and integrity to a culture starving for a good night's sleep.
11.12.12
"The number one reason you walk into a mattress store is because you've experience a major life event. Perhaps it's a divorce or separation," Ethan shared. "Or, you're getting married, having a kid, sending a kid to college, moving, or someone close to you has died. I've been shocked at how often I have incredibly rich conversations with our customers and am given the privilege to enter their lives."
That's exactly what Kenn Kelly found when he walked into Urban Mattress. Cofounder of Never Settle IT, a custom software solutions company, Kelly and his fiancée (now wife) recently visited four other mattress stores before landing on Urban Mattress. Kelly suffers from substantial back pain, so the purchase was an important one.
"Even if we had to pay more at Urban Mattress—and we ultimately didn't—we would have done it because the service was so exceptional," Kelly says. "It was such a different experience from the other stores. It was like the service you receive at a fine restaurant. They served us based on our needs, gave us freedom to make our decision, and sold us a high-quality product. I've already told all my friends about it."
Employees also stand to gain from the Urban Mattress approach. From the moment a new employee joins the organization, Rietema and Van Diest give an enormous amount of leadership to their employees, expecting that "they will make our company better," Rietema says. "I don't need 'yes sir, no sir' employees. I need people who are going to make our company better by identifying and solving problems."
Eleven employees run their three stores, and over 30 employees work in the eight stores in the franchise. They invest daily in their employees—during what they've dubbed "Urban Mattress grad school"—and help apprentices launch their own franchises in their respective communities. This year alone, the apprentices—some Christians, some not—have launched new Urban Mattress stores in Austin, Washington, D.C., and Aurora, Colorado.
MORE FROM CHRISTIANITY TODAY