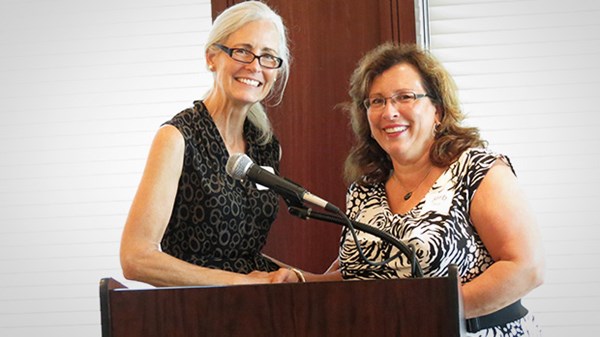 More Than Sales and Coupons: Giving Circle Connects Suburban Moms to Indianapolis
Cindy Palmer and Barb Tait's Kaleo giving circle is part of a bigger trend in U.S. philanthrophy.
6.12.12
Kaleo members each pledge $1,000 each year for two years. The vast majority are white, suburban moms, most empty-nesters or approaching that stage. They participate in an 8-month "Urban Workshops" series to learn about God's heart for the poor and the city, and are encouraged to serve hands-on together with nonprofits working among low-income women and children.
Sandy Sides, a relatively new Kaleo member, says her involvement "has opened my eyes to the injustices in my city and in my own backyard." New members take a bus tour of the inner city facilitated by a veteran urban ministry leader, Tim Streett. "They see and they hear the history of how these neighborhoods were formed, and all of a sudden they're saying, 'Yeah, we want to make a difference in our city!' " Palmer says. "And they want to go to places that they tried to avoid before." For member Kathie Fox, the group has provided the "vehicle and the moral support needed to get out of the Christian bubble it's so easy to find yourself in."
Palmer and Tait aren't surprised by the transformations they've seen, because they have experienced such change themselves. Tait reports her newfound relationships with urban families exposed her prejudices and have helped her to stop idolizing educational success. Palmer says she hopes she is less of a "bucket Christian" and more a "pipe Christian" now, giving herself away in imitation of Christ. "We are made to serve, and when we serve, we find life," she emphasizes.
MORE FROM CHRISTIANITY TODAY