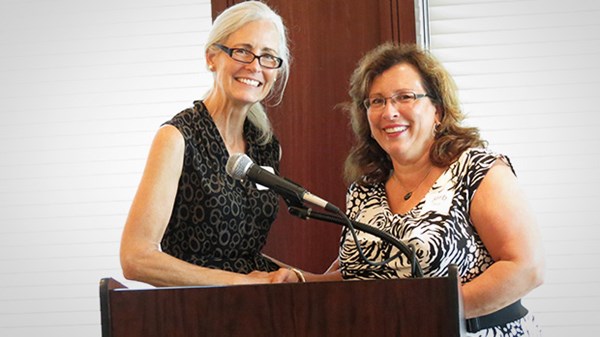 More Than Sales and Coupons: Giving Circle Connects Suburban Moms to Indianapolis
Cindy Palmer and Barb Tait's Kaleo giving circle is part of a bigger trend in U.S. philanthrophy.
6.12.12
"I was a joyful person before," Palmer continues. "But now I know a joy level that's so increased, and I see it increased in our members. I watch women come to Kaleo a little bit uptight, a little bit fearful, a little rigid. Then you see them come to life, and they become even more beautiful through their serving. Their joy is huge."
Jay Height has seen a lot of volunteers in his 14-year tenure as director of Shepherd Community on Indianapolis's near eastside. He's impressed by the quality and maturity of Kaleo members. "Kaleo brought a servant's heart to the city to learn, to ask questions, and to try and meet the needs as defined by those from our neighborhood," Height says.
Through its first four giving cycles, Kaleo has raised $197,000. Its grant to Outreach Inc., reports executive director Eric Howard, "enabled us to expand our program to help more homeless high-school students." He appreciates that Kaleo women have come alongside both some of his "frontlines" female staff to encourage them, and also have mentored the teenagers served by the ministry. Kaleo's donations have also increased staffing for the women and children's wing at Wheeler Mission Ministries' homeless shelter, underwritten new curriculum for use at Shepherd Community, and enabled Neighborhood Christian Legal Clinic to open an intake center at Wishard Hospital.
Across the border in Ohio, Krista Sisterhen is replicating the Kaleo model in Columbus. She says two things attracted her to the Indianapolis group. "I loved the emphasis they placed on giving time and talent as well as treasure," she says. "I was also inspired by their thoughtful approach to applying those gifts to meet strategic felt needs in their city." Sisterhen's giving circle has engaged about 70 women so far and has granted just over $60,000 to three ministries that serve women and children in the greater Columbus area.
Photo courtesy of Diana Hunter.
Amy L. Sherman is a senior fellow with the Sagamore Institute. Her most recent book is Kingdom Calling: Vocational Stewardship for the Common Good (InterVarsity Press), which includes an abundance of stories of Christians contributing to the flourishing of their cities. More at ivpress.com.
MORE FROM CHRISTIANITY TODAY