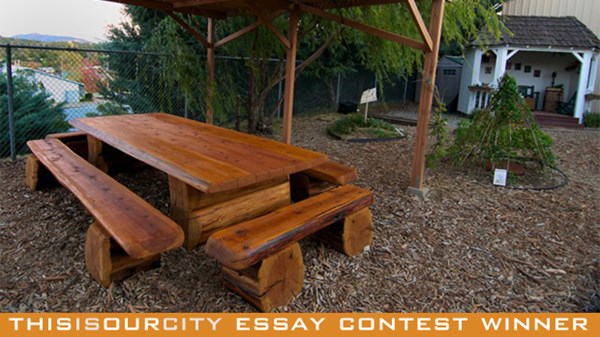 My Love Affair with Small Town America
The qualities that drive away others are what endear me to my community.
12.19.12
Like a marriage vow, our family has committed, for better or worse, to living here and doing our part to bring life to the nooks in which we dwell. Because we don't want to be mere consumers of place and hastily bolt for a "better" one, and also because we are bound like barnacles to the rock of our friendships, we stay. Staying means advocating for parks, volunteering in classrooms, coaching youth sports, serving on wilderness protection boards, being involved in our tiny country church, pulling off endless fundraisers, shopping locally, and (with grimaces) paying our overdue library fines.
A particular piece of real estate in which I, and others, have invested serious hours is a formerly neglected piece of cracked asphalt on the campus of our public elementary school. Once a graveyard for broken equipment and a wasteland of waist-high weeds, it is now a colorful, pulsing, thriving garden. We grow food, and we also grow character, community, beauty, citizens, skills, academics, and stories.
One of our best stories begins with parent volunteers deciding to buy a massive table to sit in the heart of the garden for gathering, eating, and teaching. We looked at everything from school-grade lunch tables to cast-off picnic tables. Then we hit upon the idea of commissioning a table.
MORE FROM CHRISTIANITY TODAY