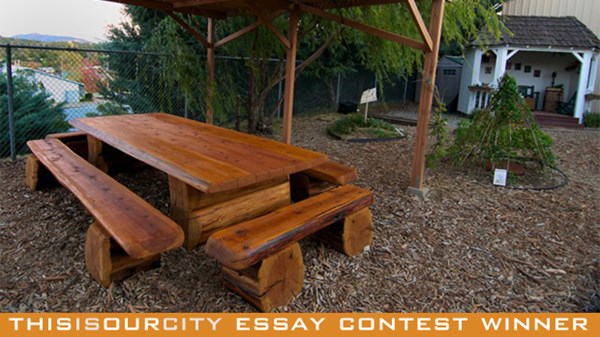 My Love Affair with Small Town America
The qualities that drive away others are what endear me to my community.
12.19.12
Our community has suffered through a series of catastrophic wildfires over the past 10 years. As such, we were drawn to a local artisan who specializes in taking down cedar trees on Volcan Mountain that were killed in fire, and refashioning them into beautiful objects. We struck up a friendship and took children to watch him hand-mill the wood on site. He made us a magnificent table large enough to seat a full class of students. When he delivered the table to the school, he was assisted by a team of local firefighters who carried it in piece by piece, with students, staff, and parents looking on, quiet and teary-eyed and something very close to reverent.
We call it a legacy table, and I believe it represents the best of our community. Our hard-earned PTO money stayed local, as we put it directly into the hands of an artist down the road. The work of his hands is enjoyed every day by school kids. Solid and gorgeous, it lives on a piece of the school that used to be sad and ugly. The table is unique, telling our story and rooting us here. It belongs to us. We cannot look at the table without remembering our shared losses and our painful recoveries, as well as our potential to re-imagine the places we inhabit, with hard work and gratitude. Everyone is invited to the table to learn, to eat, to share, as it sits in the public square of a public school. When I look at it, I see death transformed into life, the central theme of the gospel, which ultimately animates my own life's commitments. Others may not see that at all, but that's okay. The table still sings out of beauty, transformation, and community to everyone who lives in this small town.
A San Diego Master Gardener, Tricia Elisara leads the school garden programs at her kids' neighborhood school and coordinates the "Farm to School" program for the district. She blogs about "all the good things that happen in school gardens" at KidsinGardens. She and her husband, Chris, have deep roots in Christian environmental stewardship as the founders/directors of the Creation Care Study Program in Belize and New Zealand.
MORE FROM CHRISTIANITY TODAY