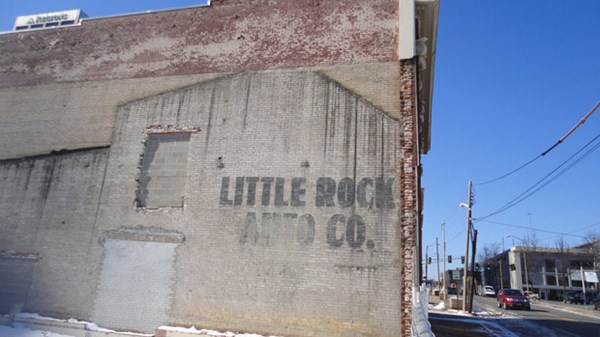 A New Name for North Little Rock
River City Ministry teams with local mayors in the so-called 'meanest city to the homeless.'
11.16.11
"I see her standing on the corner of Broadway and Hickory, open for business, if you know what I mean. Tisha is trapped in … prostitution to pay for prescription pills." Anthony Wood is describing one of the 100+ people he sees every day in North Little Rock, Arkansas. The skinny, wild-eyed woman trying to "get a date" to help support her drug habit looks like a hopeless case. Yet in the eyes of Wood—assistant director of River City Ministry (RCM) in North Little Rock—Tisha bears God's image. Until she and others like her are flourishing, his city can't flourish.
Prior to 2004, Little Rock, Arkansas, was probably best known for giving America her 42nd President. But that year, the National Coalition for the Homeless gave Little Rock a different claim to fame: "the meanest city to the homeless." According to a report in USA Today, the designation was given, in part, "to deter the city from conducting a police sweep of homeless people" before the Clinton Presidential Library opened that year. For Wood, who has spent over two decades working with poor, homeless, and incarcerated individuals (serving in Little Rock and North Little Rock since 2007), the title was a call to action.
RCM , which grew out of a local Church of Christ in 1989, provides many services found at most shelters: showers, hot meals six days a week, laundry, medical attention, and help finding housing, as well as case management, mail services, rehab referrals, and life and job skills training—"most anything a person would need to get started back in life," says Wood, 52, who holds a Doctorate of Ministry from Harding School of Theology and co-authored Up Close and Personal: Embracing the Poor. This is all part of a holistic effort to offer immediate help as well as long-term transformation for Little Rock's homeless population.
Back in 2004, when some sources estimated the number of homeless adults in Little Rock at over 2,000, the city had one of the highest poverty rates in the nation. In response, the mayors of Little Rock, North Little Rock, and Jacksonville gathered to draft at 10-year plan to end chronic homelessness. They created the Homeless Day Resource Center, hiring a homeless coordinator, team social workers, and related staff. "This was the first time the cities of Little Rock and North Little Rock allocated significant funding into their budgets to address the needs of the homeless," says Wood. This was also an opportunity for faith-based and government services to work together. RCM partnered with Central Arkansas Team Care for the Homeless, which brings together service providers, offering holistic services to the homeless.
MORE FROM CHRISTIANITY TODAY