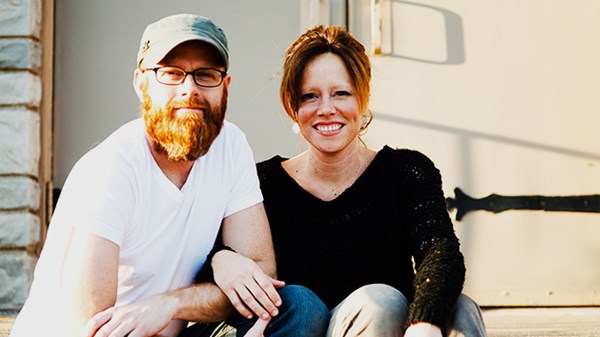 A Growing Hunger for a Local Voice: Sara Groves and Family Open Art House in St. Paul
Art House North is gathering musicians, photographers, and filmmakers to find 'a creative culture for the common good' of the Twin Cities.
6.26.12
On Armstrong Street in St. Paul, Minnesota, an old church building stood empty, a "For Sale" sign planted out front. For some in the community, this was a terrible loss, an indication of a congregation long gone. But for Troy and Sara Groves, it was the answer to a dream that had been growing in their hearts for nearly a decade, ever since they began spending time at the Art House in Nashville.
Started by record producer Charlie Peacock and his wife, Andi Ashworth, the Art House is a 100-year-old, renovated country church that is now the Ashworths' home, recording studio, and gathering space. For 20 years, in addition to producing albums like Barton Hollow for the Civil Wars, Charlie and Andi have hosted a steady stream of students, artists, writers, academics, theologians, and leaders in the entertainment industry who have come for "rich hospitality, conversations of consequence, and imaginative creativity." In 2003, Troy and Sara traveled from their Twin Cities home to record a portion of Sara's album The Other Side of Something, and what emerged was not only a new CD but also a deep friendship.
As Troy and Sara spent time with the revolving community at the Art House, they became immersed in what Charlie refers to as "a creative culture for the common good." After years of being the beneficiaries of their hospitality and wisdom—Sara says the Art House was where she honed her voice as an artist and found direction for the artist life—the Groves began to sense a calling to offer that same kind of hospitality to Twin Cities artists who are committed Christians or spiritually curious. They began talking with Charlie and Andi about starting something in Minnesota in 2007, after seeing a church up for sale. The timing was not quite right, but the seed was planted. This January, they traded their house in the suburbs for that church on Armstrong Street and a little house a few doors down, where they now live with their family of five to provide as much room as possible for Art House North events.
When it comes to understanding the role the arts play in helping a city to flourish, the Groves point to two specific influences that have shaped their thinking: reading Refractions: A Journey of Art, Faith, and Culture, by Makoto Fujimura, and a visit to Washington, D.C., while on tour with Michael Card. The Groves has just started touring, and were invited to have lunch in the Senate dining room. After overcoming the initial hurdle of finding a coat and tie for Troy to wear, the Groves found themselves sitting across the table from politicians and advisors. Says Troy, "They sat us down and said, 'You know, after a career of working on Capitol Hill, we've come to realize that in politics, we're just responding to culture. But it's the artists who are creating it—for good, or for bad.' In what ways were we wielding this power of art in our city, and in our different spheres of influence?"
Subsequent encounters with people like bioethicist Nigel Cameron and social activist/theologian Ron Sider continued to point the Groves toward a view of the arts as an important part of cultural thought, beyond pop culture and entertainment. "They would say things like, 'I can stand up in church and talk about the needs of the world, and the fact that the gospel is more than the moment of salvation, that Jesus is making all things new. But if you write songs about these things, you can reach so many people and keep the conversation going.'"
Just as the arts (music, photography, films, paintings) can provoke the deep questions of faith and humanity, they can also help people rediscover a love and passion for their communities. And they didn't have to look any further than their own city of St. Paul for a seminal example of such an artist. "Look at what Garrison Keillor has done for the Twin Cities, for St. Paul. He has created an identity for our city. Yes, we have our hard winters. But we have a storyteller who has created this narrative for us that has added so much joy to our existence." Sara, who grew up in Missouri, recalls listening to A Prairie Home Companion every Sunday after church. "I still get giddy that I live in St. Paul, where this great storyteller wove this great story. We've moved so far away from that as a culture. Now it's 'big everything.' But there is a growing hunger for a local voice. And we want to help foster that."
Both Troy and Sara are quick to point out that they did not start Art House North to be "the answer to everything artists need in the Twin Cities." Rather, they are seeking to offer the very thing they themselves need—a community of creative people from across the artistic sphere who spend time together discussing art, faith and humanity in order to better understand their own purpose as artists and to create work that is good, true, and beautiful.
On February 23, 2012, after weeks of working with volunteers to get the space ready, Art House North opened its doors to the public for the first time, drawing a standing-room-only crowd that filled its 120 seats for an evening of music, conversation, sharing the dream of Art House—and a rousing rendition of Journey's "Don't Stop Believing," performed with enthusiasm (if not technical skill) on hand bells. In March, Art House North hosted a prescreening of the film Blue Like Jazz, with author Donald Miller and filmmaker Steve Taylor, and on Good Friday, they invited Hebrew Bible and Jewish Studies scholar Tim Mackie to speak on "Imaginative Influence."
The Groves have been delighted to learn they are not alone. Through word-of-mouth, they have connected with others in the Twin Cities who share their passion for a flourishing creative community. Joining them have been theater professionals, musicians, photographers, filmmakers, and others from the creative community in Minneapolis and St. Paul, as well as people from other vocations like medicine and business. While they are careful to point out that the success of their work is not marked by the number of people who come through the doors, Art House North events have drawn several hundred people eager to engage with one another and the ideas they discuss.
And when it comes to what Art House North actually does, the Groves are very open-handed. "Charlie and Andi have given us a tremendous amount of autonomy, and we're extending that same autonomy to the artists in our community. We're basically saying, 'What do you want to see happen here?'" Drawing from their experience of being on tour for the better part of the past 14 years, Troy and Sara hope for Art House North to be an extension of their home and for the conversations to be extensions of conversations they have had with people around the globe.
The vision behind the Art House has expanded not only to the Twin Cities in Minnesota, but also to Texas, where Art House Dallas, led by Jenny White, provides soul care, mentoring, and events to the creative community there. It has also given rise to Art House America, an online community that nurtures creative artists and anyone looking to explore an artful, faithful life.
As Art House North continues to find its voice in the Twin Cities, the Groves are deeply encouraged. "We hope in 30 years there will be art in the world—in our city—that will be influenced by something they've heard or read or someone they've met at the Art House." Their biggest concern, it seems, is growing too fast. In fact, they were a bit nervous about the kind of attention an article about them could generate. But trusting that God is leading the vision, they stand ready to welcome the Twin Cities' creative community into their House.
Christy Tennant Krispin is director of engagement for This Is Our City.
MORE FROM CHRISTIANITY TODAY